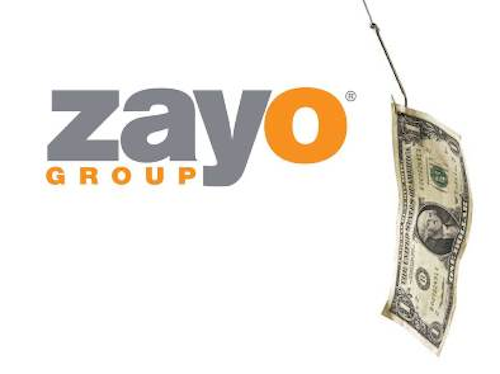 Zayo Group Holdings, Inc., which offers fiber-optic network, colocation, and related services via its various subsidiaries, has filed a registration statement on Form S-1 with the Securities and Exchange Commission (SEC), the first step towards an initial public offering (IPO) of common stock. The company said in the filing that it could attempt to raise as much as $100 million via the IPO, but that figure is subject to change.

Zayo has not yet revealed the number of shares it plans to offer, the target price of each share, or the date of the IPO.

In the filing, Zayo reveals that, as of March 31, 2014, it had more than $4.3 billion in revenue under contract, with a weighted average remaining contract term of 42 months. As of the same quarter, Zayo says it had generated annualized revenue of $1.139 billion and an annualized adjusted EBITDA of $662 million.

However, all that money has not yet led to profit. The company lost $137,217,000 last year; for the nine months ended this past March 31, it was $105,645,00 in the red. "We have consistently generated net losses since our inception and expect such losses to continue for at least several years," the company warned in the filing.

Zayo has expanded from a regional network services provider to one with an international footprint (see "Zayo pairs opportunity with planning" and "Zayo acquires London-based fiber provider Geo Networks"), thanks largely to a very aggressive acquisition strategy. The company said in the statement that it likely will continue to expand in this way.

The filing states that Zayo controlled more than 77,000 route miles and 5,700,000 fiber miles (an average of 74 fibers per route), as of this past March 31. That fiber infrastructure served 297 geographic markets in the United States and Europe, connecting to 14,490 buildings, including 3,838 cell towers and 527 data centers. It also operates approximately 200,000 square feet of billable colocation and interconnection space in 27 U.S. locations.

Morgan Stanley, Barclays, and Goldman, Sachs & Co. are the active joint book-running managers for the proposed offering.

For more information on high-speed transmission systems and suppliers, visit the Lightwave Buyer's Guide.

Want to learn more about optical network innovation? Attend the Lightwave Optical Innovation Summit
The Lightwave Optical Innovation Summit will feature panels and presentations that will illuminate where optical innovation is required in carrier and enterprise/data center networks, what it should look like, and when it might appear. A wide range of experts from the user, technology development, academic, and analyst communities will offer their views on innovation in a variety of areas within optical networking. Find out more about the Summit, which will be held in Austin, TX, July 14-16, at the Lightwave Optical Innovation Summit website.