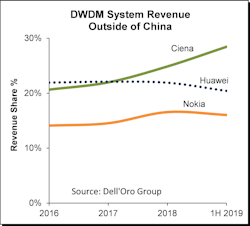 Dell'Oro Group
Sales of DWDM systems in the first six months of 2019 climbed 8% year-on-year, writes Dell'Oro analyst and vice president Jimmy Yu in a recently posted blog. Huawei and Ciena were the primary beneficiaries, he adds.
Yu notes that the 8% figure may be slightly inflated, given that sales in China last year plunged during the first half due to ZTE's placement on the U.S. Commerce Department's Entity List. Removing China from the equation, DWDM system sales outside of China grew 5% year-on-year in 1H19, he writes.
Huawei remained the leader in worldwide market share during the first six months of this year, according to Yu. But, again, removing China from the data shows Ciena leading in market share across the rest of the world; the company accounted for 30% of sales outside of China, Yu estimates. Ciena saw its revenues increase 20% in the first half of this year, he notes. A dominant position in North America and growing strength elsewhere buttressed Ciena's market share hold. Nokia held steady as the Number 3 supplier in terms of market share, with its revenue growth greater than the market average outside of China.
The figures in Yu's blog come from Dell'Oro's most recent Optical Transport Quarterly Report, which includes tables covering manufacturers' revenue, average selling prices, and unit shipments (by speed including 100 Gbps, 200 Gbps, and 400 Gbps). The report covers such applications and technologies as DWDM long-haul terrestrial, WDM metro, multiservice multiplexers (SONET/SDH), optical switches, optical packet platforms, and data center interconnect (metro and long haul).
For related articles, visit the Business Topic Center.
For more information on high-speed transmission systems and suppliers, visit the Lightwave Buyer's Guide.
To stay up to date with optical communications technology, subscribe to Lightwave's Enabling Technologies Newsletter.