Optical-switch component vendors explore new avenues
Oct 1st, 2001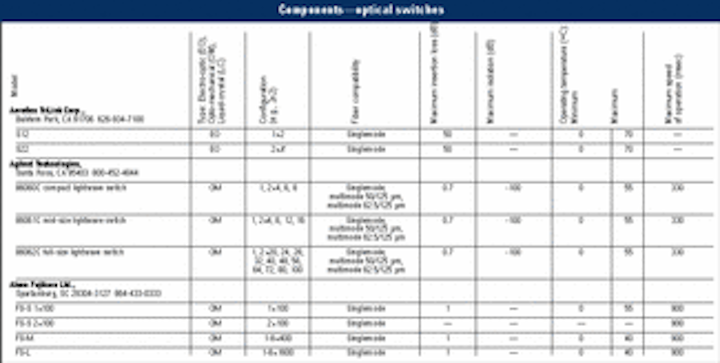 By MEGHAN FULLER
According to Peter Clark, president and CEO of Lightconnect (Newark, CA), the trends in the optical-switch component industry are more dictated by the market now than they've ever been. "We've always had situations where trends are dictated by some balance between market pull and technology push, but at this point in time, I think market demand and the market direction are much more powerful than the technology," he admits.
The buzz surrounding high-port-count all-optical switches has subsided for at least the next 24 to 36 months, say industry insiders, and reality has set in, prompting vendors to seek new technologies and more viable applications in the near term. There seems to be significant opportunity despite economic uncertainties, as the optical-switch component market is really still in its infancy.
"There isn't a perfect optical-switching technology right now," contends Lawrence Gasman, president of market-research firm CIR Inc. (Charlottesville, VA). "There are different things you can do with an optical switch, and different technologies are suited to different applications."
The biggest trend in the optical switch component segment seems to be the disappearance of a viable market for high-port-count all-optical switches or crossconnects-at least in the near term. OMM Inc. (San Diego), the only company commercially shipping micro-electromechanical system (MEMS)-based components and subsystems, recently announced the discontinuation of its rack-based, high-port-count devices based on three-dimensional analog MEMS.
"When we look at the market today compared to what we thought it would be looking at it a year ago, the market for very, very large photonic crossconnect switches, which is anything beyond 256x256 ports, we think it's been pushed out probably 24 to 36 months," says Conrad Burke, vice president of marketing at OMM. He cites a reduction in telecom spending as one reason for the delay, as well as "the realization that, in fact, the crossconnect points that will be required over the next couple of years are much smaller than originally anticipated."
According to Gasman, many vendors and analysts predicted that large-scale crossconnects would need hundreds and even thousands of ports. "But based on some of the interviews we've done lately, that just doesn't seem to be the case," he says.
Scott Grout, president and CEO of liquid-crystal supplier Chorum Technologies Inc. (Richardson, TX), offers a different spin on the situation. "One of the difficulties in moving from an electronic-switching domain to an optical-switching domain is that you are fundamentally changing how networks are built, how bandwidth is provisioned, routed, and restored," he explains. Such drastic changes do not occur instantaneously. Even DWDM, which seemingly altered the design of optical networks overnight, is merely a "trick," he says. It makes one piece of glass look like 80 pieces of glass but does not fundamentally change management, routing, or restoration. Deploying large-scale NxN switches or crossconnects would cause a radical shift in network management, however.
"One of the hurdles of these big NxNs is not just can you make the gizmo work," says Grout. "You've got to change the whole network and maintenance paradigm."
The industry may never have a need for 5,000-port devices, says Gasman, who does predict that "we're not that many years away from when there will be a significant market for 1,000-port devices." And while he believes that three-dimensional MEMS still makes sense, he also believes it's going to take some time for the volume to ramp up.
For its part, OMM is banking on an increased demand for digital or two-dimensional MEMS in such applications as small- to medium-sized optical crossconnects, protection switches, optical add/drop multiplexers (OADMs), dynamic fiber distribution systems, and all-optical routers.
"The trend now is that the de facto leading technology is MEMS. It's not a question of which technology we should use; it is MEMS," asserts Burke. OMM recently received Telecordia qualifications, which "should put to bed any doubts or questions and put MEMS firmly on the table as the solution for all-optical switching fabrics," says Burke.
OMM is the only vendor commercially shipping its MEMS products-to 28 customers worldwide-which perhaps gives Burke license to make such assertions. According to Gasman, however, these assertions are only half-right.
"Within the context of optical crossconnects, the majority being sold at the equipment level are still OEO," he explains. "To the extent that they are all-optical, it is true that MEMS has pretty much won the day."
However, he adds, "the problem with MEMS is that it seems like an unsatisfactory solution to the problem of protection switching," which he believes will be a fairly sizeable market for optical-switch components in the near term.
"Protection switching is a business that's been around for a long time," says Gasman, "so there is a sort of stability of business there worth a few hundred million a year." In fact, CIR predicts the U.S. market for all-optical-switching components and subsystems used in protection-switching applications will jump from $126 million this year to $479 million by 2005.
According to Gasman, MEMS-based components are not well suited for protection-switching applications because, like all mechanical devices, they are not terribly fast. Second, a key benefit of MEMS is its scalability, which is unnecessary in a 2x2 or 4x4 protection switch.
The alternative, he asserts, is to look at small solid-state switches, which he calls "the converse of MEMS."
Liquid-crystal switches are particularly well suited to the problem of protection switching because they are highly reliable, say such champions as SpectraSwitch Inc. (Santa Rosa, CA) and Chorum Technologies Inc. The reliability edge comes from the fact that liquid-crystal devices have no "wiggling parts," as Grout calls them.
"Anything with wiggling parts may have a near-term play," he admits, "but in the long run-and that's not too many years from now-as other technologies develop and become practical from a performance standpoint, they will overtake the wiggling parts."
Hubert Kostal, vice president of marketing at SpectraSwitch, cites liquid crystal's longevity as a key advantage. "The tendency is for liquid-crystal devices to be very durable, to have an almost limitless life in operation compared to devices with moving parts," he explains.
"Also, based on the way it works, you can actually cause the liquid crystal to realign under fairly low power. So it tends to be a low-power, highly durable, and highly reliable device when it's all put together."
According to CIR, the market for liquid-crystal-based switches will reach $199.3 million by 2005.
Agilent Technologies is also focusing on a solid-state technology for its 32x32 switches. Its "bubble technology" uses glass from a planar waveguide circuit and silicon borrowed from Hewlett Packard's inkjet technology to create a switch with no moving parts and a simple control system, which makes it ideal for protection switching, says Dave Andersen, general manager of Agilent's photonic systems business unit.
The 32x32 building block approach gives the end user two advantages, he contends. The first advantage is economic, he says, because "you can install as much or as little capacity as you need and pay as you grow." This modular building block approach also provides a reliability advantage, asserts Andersen.
"With MEMS, you've got this whole array of mirrors, and if one of those mirrors happens to fail, you have to take the whole thing out and replace it," he explains. "That's a very big proposition, to change out a very large switch fabric like that. With a modular approach, if there were to be a failure, you lose part of the system, but a very small part. It's fast to repair.
While solid-state switches may provide significant advantages, Optical Switch Corp. (Richardson, TX) is banking on opto-mechanical technology to help it win a sizeable portion of the protection-switching market. At OFC last March, the company unveiled its FiberKey technology based on a principle known as frustrated total internal reflection. When two surfaces come in contact with each other-in this case, two pieces of fiber-the boundary between them can disappear, explains Jeremy Chappell, the company's vice president for business development.
"When it comes to something very critical like protection switching of high-capacity trunks, our experience has been that service providers like to see the materials that they are familiar with," contends Chappell. "So when they see fiber, that makes them very comfortable."
Many component vendors are also eyeing the OADM market, but Gasman cautions against that in the near term. "I had a rather tense exchange with one of our clients who is interested in switching components within the OADM market, and what we're telling him is, 'Don't get too excited,'" he says. First, he contends, OADMs drop wavelengths off optical rings, so the OADM market will only grow when the big service providers, namely the Bell companies, start deploying optical rings-and they just aren't making those kinds of purchases right now. Second, the less dynamic OADMs need only a filtering technique to drop a few wavelengths, rendering switching components unnecessary.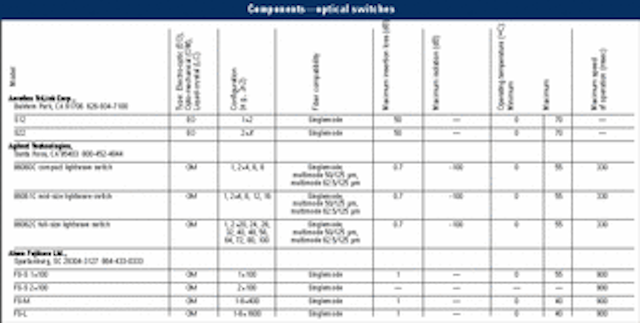 "We're really talking about dynamic or reconfigurable OADMs, which is like a subset of a subset of a subset," explains Gasman. "While potentially the market there is huge-if you could imagine a world where SONET ADMs are replaced by OADMs, then you're talking who knows what kind of number. Tens of billions of dollars, for sure. Maybe hundreds of billions worldwide." However, he cautions, this migration is not likely to happen overnight.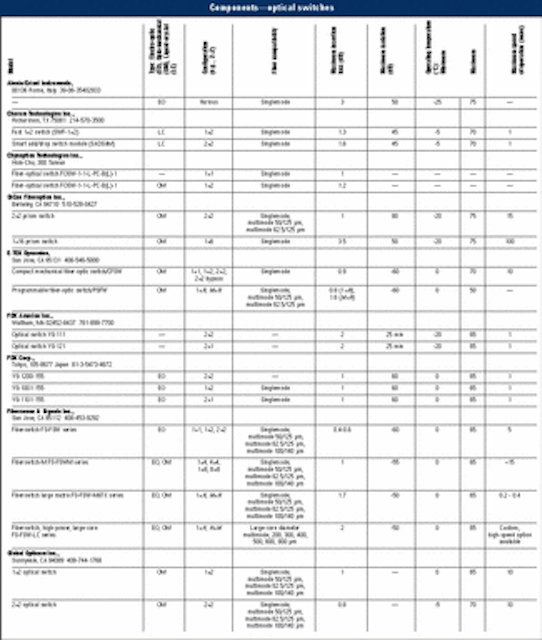 Given the uncertainties in the market, Optical Switch Corp. has adopted a more pragmatic business model, eschewing the larger markets in favor of niche solutions. "The approach that we're taking is to build technologies that solve specific problems rather than say, 'One size fits all,'" explains Chappell. The company's 1xN switch, dubbed Kaleidoscope, is targeted at systems integrators in the test and measurement industry.
"OEMs who make fiber-optic test systems, be they handheld or rackmounted, are doing pretty well," says Chappell. "They are trying to bring innovative products to market that will enable them to monitor the fiber in the ground, assess how well it's working, and even make preemptive observations about when they need to fix something."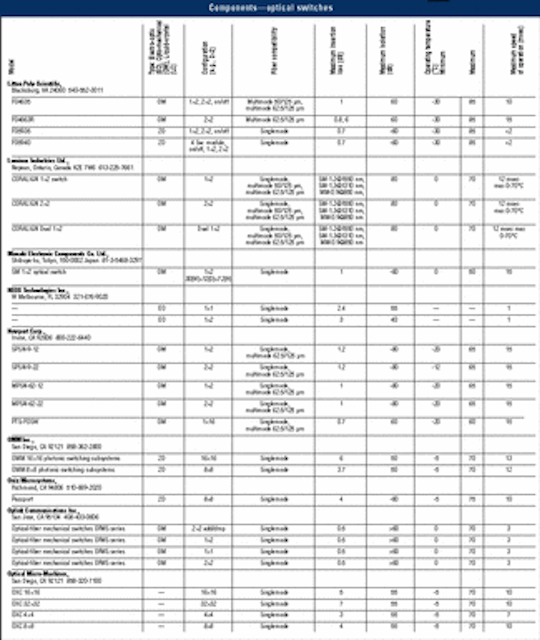 Whether one technology eventually wins the day or many technologies find a niche in different applications, optical-switch component vendors seem certain of one fact: The industry is so new, it's nearly impossible to make accurate predictions.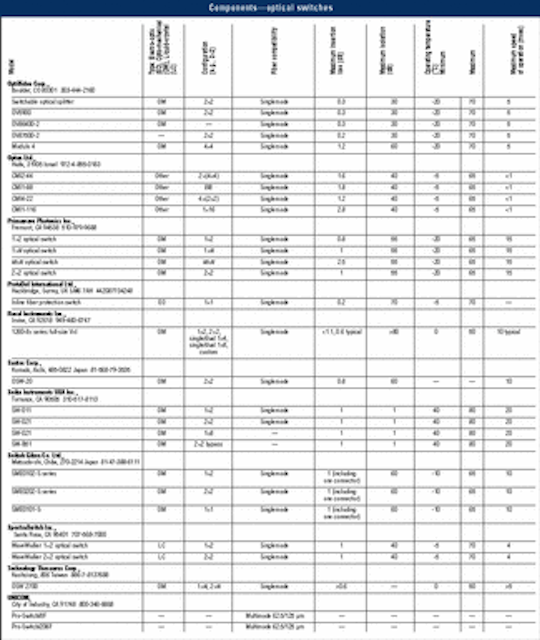 "I can see a day where a lot of the bandwidth management and meat-and-potato functions that are done electronically today will be done optically," says Grout. "And I think the physicists will help us figure it out. These are just the early days of application, concept, and technology on optical switching."