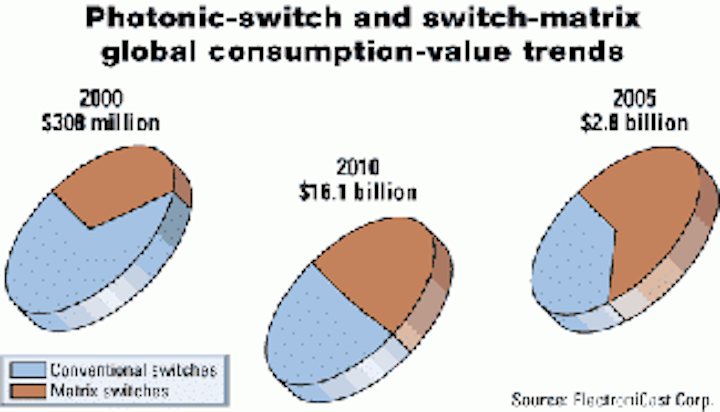 The global market for photonic switches and switch matrices will jump from $308 million in 2000 to more than $16 billion by 2010, driven by the expansion of fiber-optic transport and access networks, according to a new market study from ElectroniCast Corp. (San Mateo, CA-see Figure). While the 2000 switch-market value consisted of conventional 1x2, 2x2, and 1xN configurations, future growth "will be dominated in dollar value by complex switch-matrix systems but in quantity by conventional switches," says Jeff D. Montgomery, chairman of ElectroniCast.
North America led the global photonic-switch and switch-matrix consumption in 2000, capturing 81% of the market or $250 million. While the North American market share will decrease to 75% by 2010, the value of its market share will jump to more than $12 billion.
According to the report, switch matrices are sold at four levels of integration: as components, simple subsystems, standalone systems, and as devices integrated into communication equipment, such as SONET multiplex transport terminals, digital-crossconnect switches, optical add/drop multiplexers, hubs, and routers.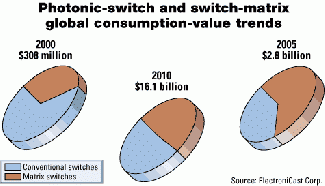 The worldwide consumption of photonic-switch-based balanced input/output switching matrices plus MxN matrices was $111.9 million in 2000 and includes merchant market sales and captive production for vertical integration into equipment production. This segment is projected to grow 66% per year, reaching $1.4 billion by 2005. The market will continue to grow at an average of 47% per year, to net $9.61 billion by 2010.
"This growth will be driven by the need to implement switch functions that do not limit the capabilities of the optical fiber," explains Montgomery. "Current OEO [optical-to-electrical-to-optical conversion] switch limitations include limited data rate; sensitivity to data protocol, complexity, and the cost for multiple wavelengths; high power consumption; and the inability to transparently pass all of the optical signals on the fiber. In addition, improvement in technology and manufacturing will provide higher performance, higher reliability, smaller size, low power consumption photonic switches...at a significantly lower cost per channel."
For more information or to purchase the report, "The Photonic Switch and Matrix Global Market Forecast," call 650-343-1398 or visit ElectroniCast's Website at www.electronicast.com.