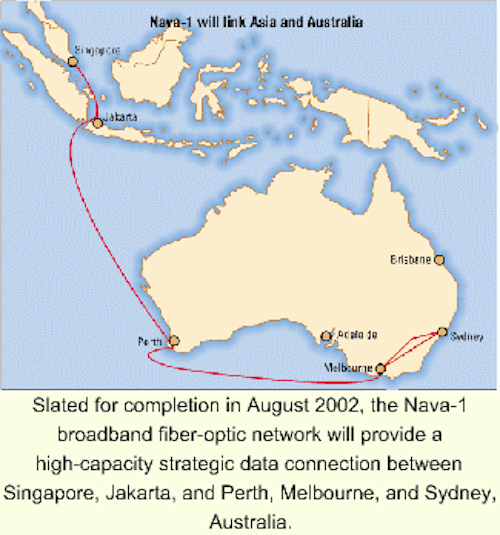 Networks
By MEGHAN FULLER
Hoping to capitalize on the huge demand for bandwidth in Asia and Australia, wholesale carriers' carrier Nava Networks Ltd. (Bermuda) has unveiled plans for Nava-1, a multiterabit network designed to close the DWDM loop between Asia and Australia and the Southern Hemisphere loop for international systems between Europe, North America, and Asia. Both its construction and business strategy reflect a fundamental change in the industry, with many of today's carriers turning to private developers to undertake the task of building so they can focus less on infrastructure and more on the demands of their customers.
"Our strategy is to be a niche builder and to focus on routes where the economics don't justify competitive builds but instead justify an independent developer like Nava doing the hard work, putting the proposition together, and effectively offering the major global players technical standards equal to building their own systems," explains Brett O'Riley, one of the company's co-founders as well as its director of sales and marketing.
Nava-1's 9,000-km cable system will be both submarine and terrestrial. A submarine link will connect Perth and Singapore with a branching unit into Jakarta. Another submarine system will link Perth and Melbourne, while a terrestrial loop, built in conjunction with an Australian terrestrial carrier, will connect Melbourne and Sydney.
Historically, Singapore has been a major hub for cables into Northern Asia and Europe, and Sydney has been a hub for cables to America, New Zealand, and Japan. The Nava-1 network will be the first to connect the two hubs, in addition to providing capacity into Indonesia. The first terabit-class system within Australia, the network is expected to triple the country's international capacity.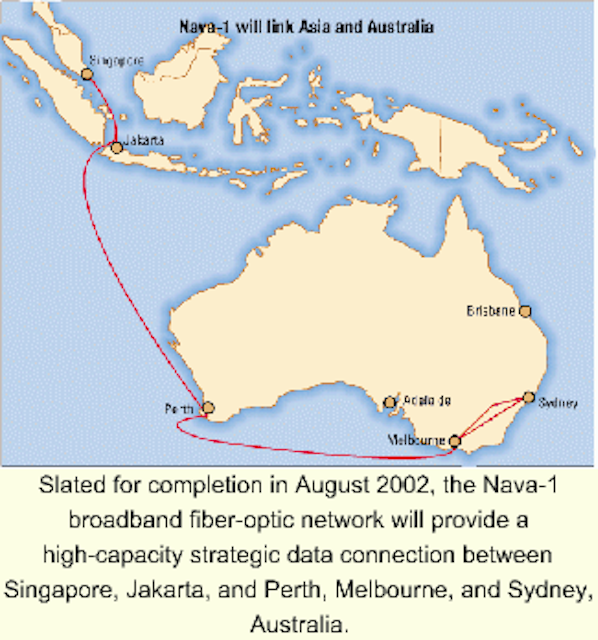 Slated for completion in August 2002, the Nava-1 broadband fiber-optic network will provide a high-capacity strategic data connection between Singapore, Jakarta, and Perth, Melbourne, and Sydney, Australia.
The network design has already experienced several upgrades since its conception. The original design called for a 4-fiber-paired system with each fiber pair supporting 64 10-Gbit wavelengths, providing a total minimum capacity of 2.56 Tbits. The system is now slated for a minimum capacity of 3.2 Tbits, based on eight 18-Gbit wavelengths per fiber pair. Nava also intended to offer traditional services-STM-1, -4, -16, and -64-but soon realized that the industry is increasingly moving toward the switched optical layer. Instead, Nava will sell 10-Gbit wavelengths and allow customers to take color or light in its purest form and attach it to their own transmission equipment.
"We'll allow customers to install their own add/drop multiplexers to our line-termination equipment, effectively allowing the customer to groom that capacity into their own network," explains O'Riley. "So if the customer is using a Nortel-, Lucent-, Sycamore-, Alcatel-, or Fujitsu-based transmission network, they can effectively groom that wavelength onto their own network and manage it as part of the seamless network, regardless of whether it's actually a cable owned by them or Nava."
According to O'Riley, this strategy has proven very attractive to potential customers. Nava has targeted major international carriers and ISPs looking for backbone Internet Protocol capacity into Australia. Asia carriers, who are looking for an extension from Singapore to Indonesia to complete their Asian networks, have also expressed interest. Nava is also negotiating with Australian domestic carriers looking for connectivity between Sydney, Perth, and Melbourne as well as those who would like to use the Nava-1 landing stations in Singapore and Sydney as the entry and exit points for international connectivity.
Construction on the network is scheduled to begin in June of this year, with the system-availability date set for August 2002. Nava has already tapped Fujitsu Ltd. (Tokyo) to provide the undersea cable portion of the network. The project was also buoyed by the recent announcement of a $520-million debt facility, provided by TD Securities and Barclays Capital, bringing the project's total capital budget to $645 million.
Nava-1's lead investor is broadband-investment company Dolphin Communications Partners LP (New York), which recently created its own development arm, the Bermuda-based Dolphin Networks Ltd., which O'Riley likens to a "SWAT team for developing broadband projects around the world."
While Dolphin Communications experts are in the United States, Nava's own management team is spread through out multiple time zones, with executives in Japan, Australia, Indonesia, and New Zealand. O'Riley says the diversity of the team has been a strength, not a weakness, and has led to the rapid gestation of the project.
"The capabilities of the [combined] teams have enabled us to move ahead very quickly," he says.
Nava Networks has not yet made a formal announcement regarding its future after the completion of Nava-1, but the company has indicated that other projects are looming on the horizon.
"There is certainly a recognition in the United States that the next major phase of development of broadband will be in Asia," asserts O'Riley. With its huge population base, Asia has strong potential for Internet growth. He cites India, a country of over a billion people, many of whom speak English as their first language. And Indonesia's 220 million people may be ethnically, economically, and culturally diverse, but its middle and upper classes are bigger than the population of Australia.
"There are some huge untapped markets out there," says O'Riley. "With significant broadband local access and broadband-network deployment, that's seen as a major market for the global players."
These untapped markets may also present huge technological challenges, however, particularly in Indonesia-its location as an archipelago and its difficult terrain making traditional broadband-network deployment problematic at best.
"In many cases, people are looking at submarine to link countries and then a combination of wireless and terrestrial to flesh those out," says O'Riley." Probably more wireless than is traditionally deployed for backbone networks in the U.S. and Europe simply because of its ease of deployment," he adds. Nava is currently working with companies looking to deploy local access in such inaccessible areas, and they have concluded that a lot of local access and even national network capacity will have to be wireless for the Internet revolution to really take hold in Asia.
Despite the obstacles, O'Riley remains optimistic about the future of broadband deployment in Asia. "It's a huge addressable market," he says, and Nava Networks and its backers are certainly committed to addressing it.