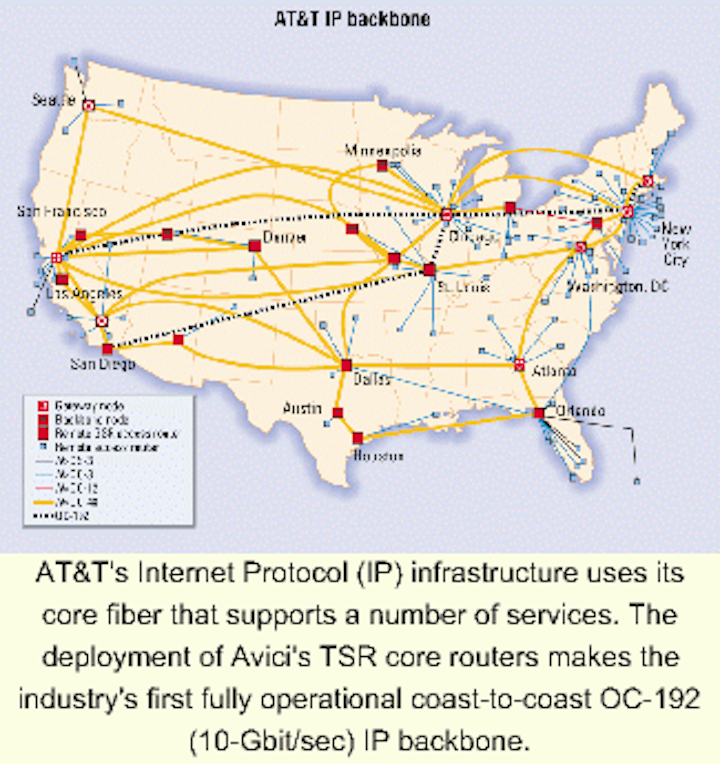 TECHNOLOGY
By ROBERT PEASE
With the announcement of its first major customer win, Avici Systems (North Billerica, MA) is setting a faster pace for core optical-router vendors to provide scalable OC-192 (10-Gbit/sec) products for customers. The company's selection to provide its TSR routers for AT&T's (New York City) Internet Protocol (IP) backbone network puts pressure on terabit-router vendors to get their large-scale systems to market.
AT&T claimed the first fully operational coast-to-coast OC-192 IP backbone last January, along with the planned build-out of its Internet Data Center that will double the company's Web hosting capacity. The plan also includes construction of eight more centers, with at least one internationally.
According to Chris Nicoll, senior analyst at Current Analysis (Sterling, VA), the "first blood" drawn by Avici in winning a key service provider for deployment of its product is a sign that the market for these large-scale systems is "beginning to gel." That's good news for a market that has been relatively slow to evolve-not to mention a market that has relatively few players.
"AT&T's purchase of eight Avici TSRs is significant in that Avici apparently passed what is known to be a very stringent and demanding test plan by the carrier-one that has reportedly washed out other terabit vendors," says Nicoll in a recent report. "The pace at which other carriers embrace the TSR will have a dramatic impact on the competition."
Indeed, it should serve to "light a fire" under the likes of Cisco Systems, Lucent Technologies, Nortel Networks, Pluris, and Tellabs to challenge any momentum Avici might gain in the market. That market could exceed $4 billion this year, growing to more than $12 billion by 2003, according to market analyst RHK Inc.'s (San Francisco) "Core Switch Router Forecast" report last December.
AT&T was an important win not only for Avici, but also for the entire terabit-router market. Nicoll believes if more vendors can establish supplier positions with other Internet service providers, it could break the stranglehold that Cisco has traditionally enjoyed on the core-router space.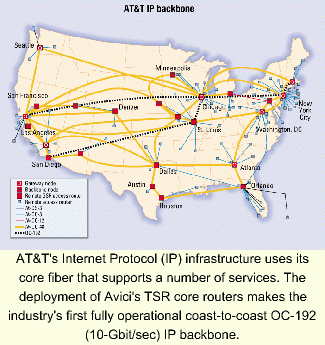 AT&T's Internet Protocol (IP) infrastructure uses its core fiber that supports a number of services. The deployment of Avici's TSR core routers makes the industry's first fully operational coast-to-coast OC-192 (10-Gbit/sec) IP backbone.
Still, Avici deserves credit for enduring the rigorous testing and ultimately getting the first major procurement agreement with AT&T. Its TSR product has two features that differentiate it from the rest of the pack. First, it can be scaled without interrupting the network, enabling the provider to easily grow the network in relationship to increases in traffic or to accommodate new applications. A second feature is a technology Avici calls "composite links."
"Composite links, in very basic terms, is essentially trunking technology that allows us to take multiple physical paths and form a logical, fatter pipe," says Esmeralda Swartz, director of strategic marketing at Avici. "For example, if you have OC-12s [622 Mbits/sec] and you want to aggregate those to form a bigger pipe, you can do that. You can also have a speed mismatch-we can do a four-to-one mismatch. It really doesn't matter if you have OC-3 [155 Mbits/sec], OC-12, or OC-192. If you're a carrier that hasn't upgraded the transport network at a remote area, you can use composite links to aggregate those physical pipes to form a logical connection."
The terabit-router market may be in its infancy, but with the growth of Internet and data traffic, along with government support to establish Internet connectivity in underserved regions, it's apparently just a matter of time before OC-192 shows up in backbone networks criss-crossing all parts of the U.S.
"Wavelength management, closely coupled with IP routing, will enable service providers to scale their optical IP networks and strengthen the business case for the installation of terabit-class routers, as opposed to gigabit systems from Juniper Networks," says Nicoll.
Juniper was recently awarded a contract to supply gigabit router systems to Cable & Wireless en France, the French operation of Cable & Wireless. With shorter links between major cities in Europe, OC-192 and terabit routing may still be years away.
"Europe is typically a bit behind the U.S. in terms of technology, although the region is rapidly progressing," says Swartz. "They are likely still using OC-48 and a combination of OC-3s."
However, the bar continues to be raised in terms of speed and capacity. With the implementation of terabit core routers in a major U.S. network, AT&T and Avici have just given the competition a wake-up call that could serve to hasten the deployment of OC-192 and bring about the dawn of terabit routing.