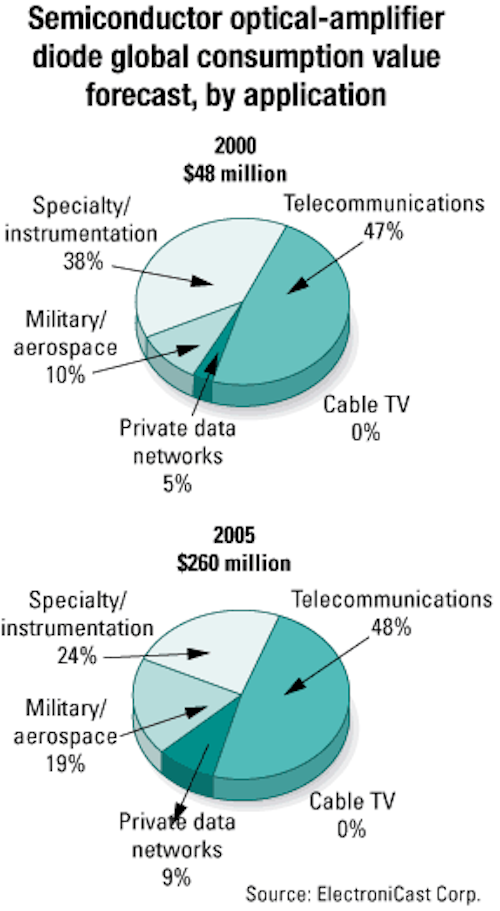 Global consumption of semiconductor optical amplifiers (SOAs) is expected to jump from $48 million in 2000 to $260 million by 2005, driven by their use in digital fiber-optic transmission applications, according to a recent report from ElectroniCast Corp. (San Mateo, CA). The telecommunications sector will account for $122 million or 48% of the total SOA market by the end of the forecast period.
Laboratory field-test and built-in instrumentation will also account for a large share of the SOA market, though this application will see a slight decline from 38% of the market in 2000 to 24% by 2005. Optical line amplifiers will ac count for 46% of the market by 2005.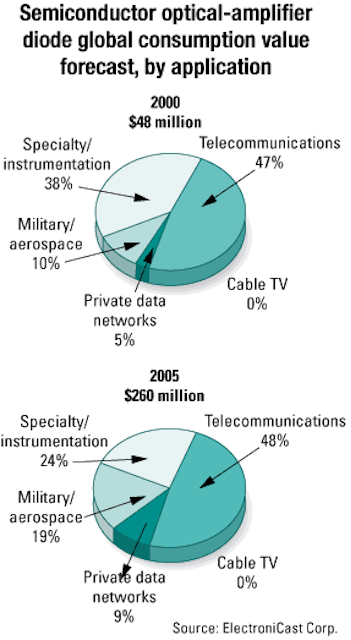 North American consumption is projected to increase from $31.3 million in 2000 to $147 million in 2005. By 2010, the majority of SOAs will be used in photonic-switch matrices. This use will be almost matched by amplifiers for local access WDM networks, laboratory instrumentation, and military/aerospace data links, claims the report.
For additional information about the report, "Semiconductor Optical Amplifiers Global Market Forecast," contact ElectroniCast at 650-343-1398 or visit the company's Website at www.electronicast.com.