Growth of DWDM market to resume in 2002
Dec 1st, 2001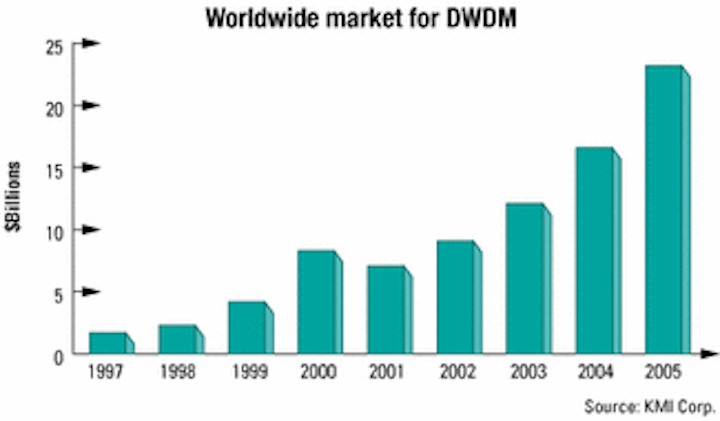 The worldwide market for DWDM transport equipment dropped 14% this year, though a new study from KMI Corp. (Providence) projects growth to resume again in 2002. The report, "DWDM Markets in Transition," also found that growth rates will vary sharply by geographic region and application.
After a near doubling of DWDM spending from 1998-2000, the market slowed dramatically in 2001, as most long-distance network build-outs neared completion. Because carriers typically light only a fraction of newly deployed systems, equipment may not be filled for several years. For this reason, KMI predicts that 2001 and early 2002 will be slack times as carriers fill up unused capacity with channel-card deployments.
The overall market figures mask the difference between buying new systems and adding channel cards to previously deployed systems, contends the report. While the systems market has declined 26% this year, dropping from $5.6 billion to $4.1 billion, the channel-card market has grown 9% to $3 billion.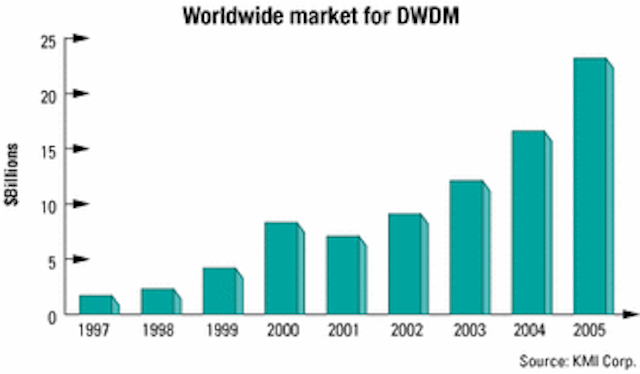 The report also found that the DWDM market experienced wide variations by vendor, application, and geographic region. KMI projects that Nortel Networks will experience a 50% drop in revenues, while Ciena's business will grow by 50%. In terms of applications, the worldwide market for long-haul DWDM systems will decline 23%, but the short-distance metro market will jump 63%. Established markets in North America and Europe will fall 23% from $7.8 billion in 2000 to $6 billion this year, says the report, while emerging markets in Asia-Pacific and the rest of the world will experience a doubling of the DWDM market.
KMI asserts that average DWDM systems deployed in 1999-2000 will fill to 60-70% capacity at staggered rates through 2002 and 2003. Given that carriers usually begin planning new deployments before capacity reaches 70%, KMI expects a slow rise in DWDM revenues in 2002, accelerating in 2003. The worldwide market for systems and channel cards combined will experience a compound annual growth rate of 34% to reach $23.2 billion by 2005.
The report features projected vendor market shares and market estimates and forecasts for major subsystems, DWDM systems, and channel cards through 2005. Price trends for systems and subsystems are also included, as are details about contract announcements from the first half of 2001 versus the first half of 2000, by region, application, and value. For more information, visit the company's Website at www.kmicorp.com or call 401-243-8100.