Transceivers get a boost
Apr 1st, 2004
Economic recovery and the growing use of 10-Gbit/sec optical links for enterprise and storage applications will drive steady growth in the long-wavelength laser and transceiver market, contends a new report from Strategies Unlimited (Mountain View, CA). This year will be critical for suppliers, however, with more than 40 companies competing for orders and surprisingly little consolidation in the segment so far.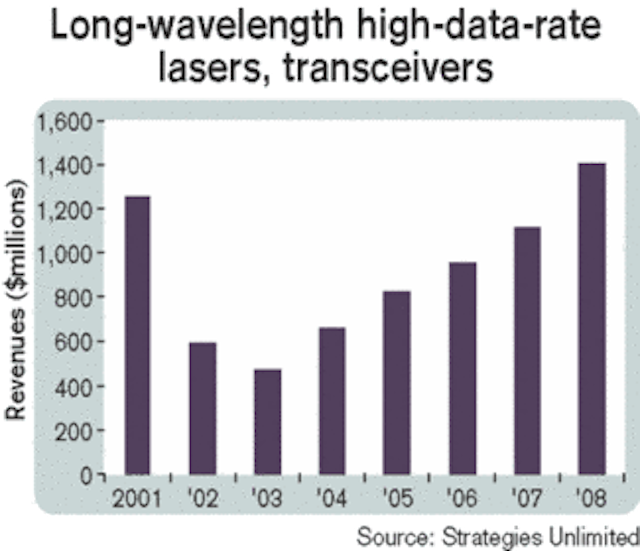 Lead times are extending for the first time in several years, after the market fell by 80% from its peak to nearly $500 million in 2003. Strategies Unlimited predicts a recovery in 2004, with the transceiver market set to grow at a CAGR of 24% by 2008. The growing use of optical links in LANs and SANs will boost the recovery and likely spill over to create new demand for long-wavelength transceivers in campus and to a lesser extent metro networks. Promising opportunities include emerging form factors and new approaches to carry 10-Gbit/sec traffic over legacy multimode fiber.
Agilent Technologies and Finisar led the transceiver market last year. Other datacom-transceiver suppliers are pushing toward high-end products as well, says the report. Meanwhile, some traditionally high-end telecom suppliers are targeting enterprise equipment makers.
"The saying that 'past performance is no indication of future behavior' is especially apt in this market," asserts Tom Hausken, director of communications component research. "A change in the lineup is certain, and we are seeing some of that already."
For more details about the report, "Long-Wavelength High-Data-Rate Lasers – 2004," visit the company's Website, www.strategies-u.com.