Pump-laser-diode consumption is on the rise
Apr 1st, 2004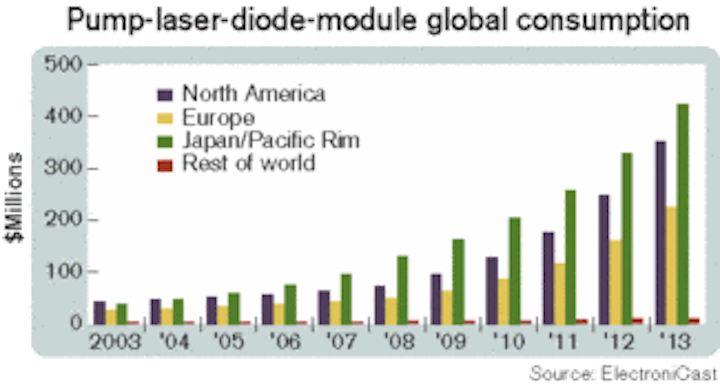 The global consumption value of pump-laser-diode (LD) modules is expected to reach $255 million by 2008, according to a new study from ElectroniCast (San Mateo, CA). "During years 2008–2013, DWDM, greenfield (new-builds), and the lighting up of dark fiber will cause an impressive increase in the deployment of optical-fiber amplifiers (OFAs) utilizing pump-laser-diode modules," reports ElectroniCast president Stephen Montgomery.
Last year, the use of pump-LD modules reached just over $70 million in telecommunications applications. Driven primarily by the deployment of OFAs in China, the Japan/Pacific Rim pump-LD-module market will increase in value to a leading $424 million in year 2013.
Montgomery believes DWDM will begin to make "a noticeable comeback." DWDM-rated OFAs typically will use more 1480-nm pumps versus 980-nm pump-laser modules. The 980-nm pump modules also are used in metro/access OFAs, but 1480-nm pump-LD modules with an output power capability of >200 mW will eventually take the market share lead, mainly used in WDM networks, adds Montgomery.
For more information on the report, "Pump Laser Diode Module Global Market Forecast," visit www.electronicast.com.