Broadband providers eye MDUs
Aug 1st, 2004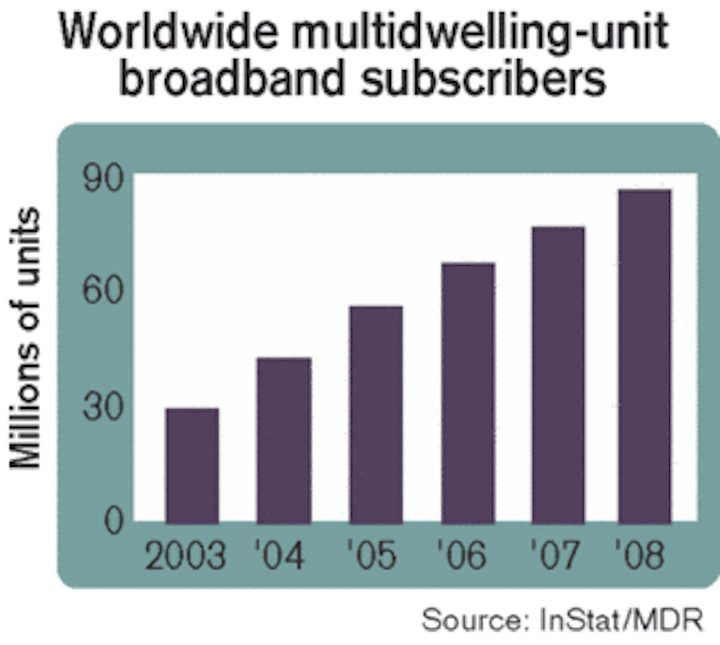 Multidwelling units (MDUs) represent an enormous current and future opportunity for broadband services, comprising more than one-third of the total households worldwide, reveals a new report from In-Stat/MDR (Scottsdale, AZ). While there will be fewer than one million MDU in-building broadband subscribers by the end of this year, these subscribers should grow 10-fold by the end of 2008.
"Not only does this market offer a vast subscriber opportunity, technologies applied to the MDU allow for unique services to be offered to this environment, such as tiered service levels and bundled (voice, video, and data) services," explains In-Stat/MDR senior analyst Amy Cravens. "Also, this may be a lead market for the introduction of certain broadband entertainment services such as music, video, and gaming content, as the audience is a strong match for such solutions."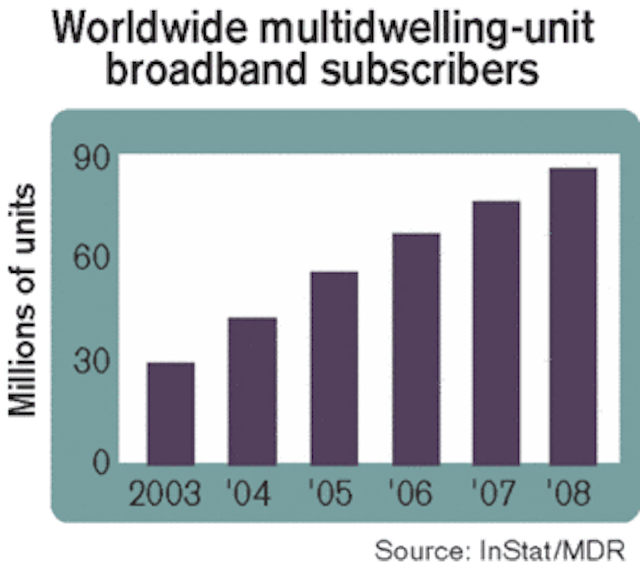 The MDU also offers broadband providers a different business-operating environment compared with single-family neighborhoods. One primary differentiator is the higher rate of subscriber turnover in the MDU due to the more transient nature of MDU living, particularly in North America. While that means potentially losing customers with greater frequency, Cravens says it also means more opportunities to market services to new residents.
Asia-Pacific is the largest MDU market in the number of households, representing more than 50% of the worldwide market. Moreover, the MDU market in Asia-Pacific is growing faster than any other region. North America is a relatively small MDU market compared with Asia-Pacific and Europe.
According to the report, MDU residents tend to be younger than those in single-family units (SFUs), with a higher concentration of college students and young professionals. This demographic also is associated with heavy Internet usage and more likely to adopt new technologies. But the MDU resident typically has less disposable income versus the average SFU resident, so providers need to demonstrate the value of their service offering.
For more information about the report, "Multi-band: Markets for Shared Broadband Access—Part Two: Residential MDU," visit www.instat.com.