U.S. fiber-optic market to grow 10% annually through 2006, reaching $22 billion
Oct 1st, 2002
The U.S. market for fiber-optic equipment and systems is expected to increase 10.3% annually through 2006 to net more than $22 billion, reports a recent study from Cleveland-based business researcher Freedonia Group. While this forecast is well below the robust gains registered throughout the 1990s, it is nonetheless a significant improvement over the last few years' performance. Long-term prospects are even more favorable, predicts the report, with annual growth averaging nearly 18% between 2006 and 2011, when the market is projected to exceed $50 billion.
Increased demand for multimedia services will fuel the projected gains; these services are inherently broadband-intensive. Accelerating demand accompanying economic recovery and expansion will absorb existing fiber capacity and prompt significant investment in new capacity, especially toward the end of this decade, says Freedonia.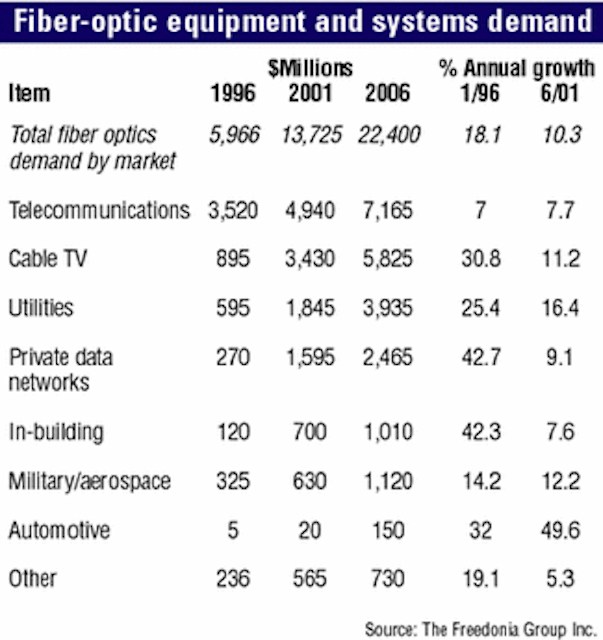 In the near term, however, the fiber overcapacity built up in the late 1990s will need to be worked off. For this reason, less established segments like military/aerospace, automotive, and utilities will exhibit better growth through the middle of the decade.
In the longer term, the conversion from copper to fiber cabling in the local access and in-building segments will promote growth in the fiber-optic market. Technological innovation will also drive market growth as the improving economic climate will enable vendors to increase research and development budgets. All-optical switches based on MEMS hold particular promise, say analysts, as does DWDM technology.
For more information on the report, "Fiber Optics," call 440-684-9600 or visit www.freedoniagroup.com.