Long-haul core equipment market to net $24.2 billion by 2005
Feb 1st, 2002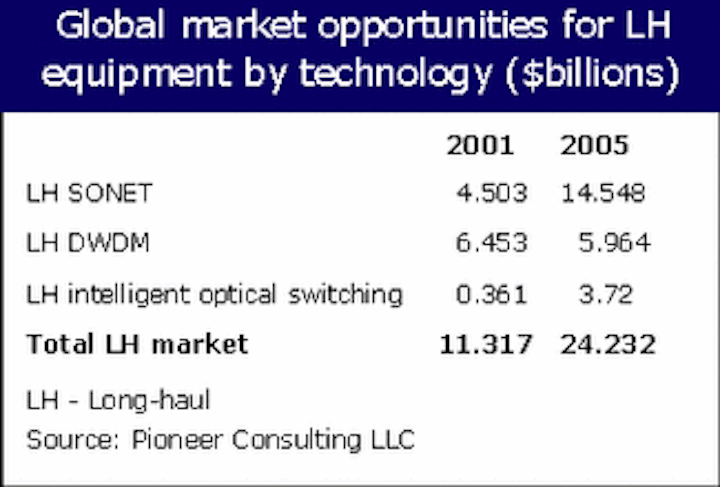 The dynamics of the long-haul (LH) core optical-networking market have changed dramatically over the past two years, resulting in a declining growth rate for networking equipment such as SONET, DWDM, and intelligent optical switching. According to a new report from market researcher Pioneer Consulting LLC (Boston), softness in the market will give way to impressive growth with total global long-haul, core optical networking equipment purchases expected to reach $24.2 billion by 2005.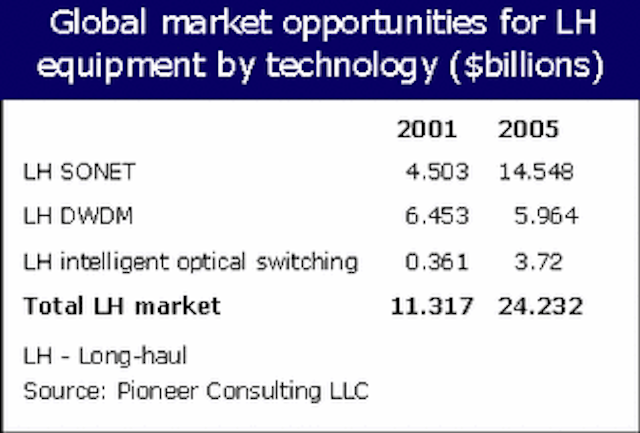 Carriers have scaled back LH equipment purchases, says senior analyst Jason Marcheck, driven by the sluggish economy, the current emphasis on metro-network build-outs, and the adequate level of capacity in backbone networks. "However," says Mar check, "the clear need for carriers to migrate toward more intelligent, less costly optical equipment will keep sales stable throughout this 'soft' period and cause them to increase dramatically in 2003 and beyond." Next-generation LH SONET and legacy LH SONET equipment are expected to offer the greatest market opportunities.
For more information, "The New Optical Core: Photonic Switching and Next-Generation Optical Transport in Long-Haul Core Networks," visit the company's Website at www.pioneerconsulting.com.