Asia-Pacific optical networking, which includes SDH/SONET add/drop multiplexers, digital crossconnects, and WDM equipment, netted $5.14 billion in 2001, up 28% over the previous year, reports a new study from RHK Inc. (San Francisco). Last year's market share leaders have been replaced by new leaders, changes that stem from a "hot" China market, a strong year for 10-Gbit/sec-based long-haul (LH) WDM, and a move away from NTT-standard SDH in Japan (which benefits foreign suppliers).
Huawei moved into the number one spot, jumping from a 10% market share to a 15.4% share after capturing 35% of the Chinese market. Lucent Technologies' share edged up from 11% to 11.9% on the strength of its Japanese WDM sales, while Nortel Networks' share grew from 6.5% to 11.5%, after it captured 42% of China's WDM market.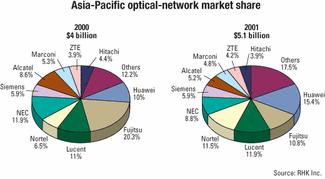 The previous year's leaders, Fujitsu and NEC, fell to fourth and fifth, respectively, as they both lost ground in Japan. Alcatel's shares fell from 8.6% to 5.2%, thanks to a disappointing showing in the Chinese market.
According to RHK analysts, the SDH/SONET market experienced modest growth in 2001, driven by new builds in China. The real story was in the WDM segment, however, which grew 92% for the year. Carriers are using LH WDM to build backbones, while incumbents have begun testing and deploying metro WDM equipment.
RHK's "Optical Networks: Asia-Pacific 2001 Market Share Report" is scheduled for publication later this quarter. For more details, call 800-755-2990 or visit www.rhk.com.