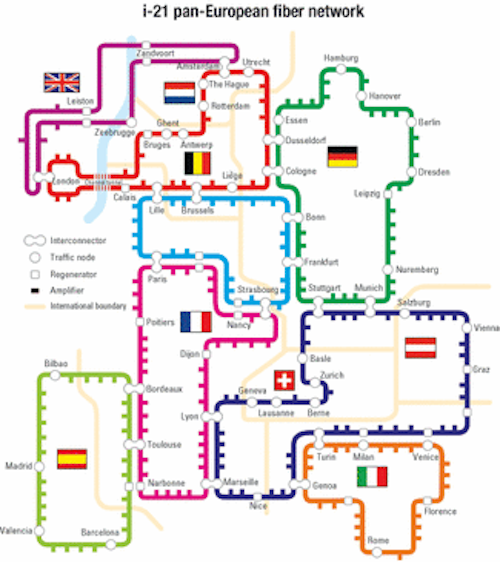 networks
By ROBERT PEASE
Despite the perception of capacity gluts in several areas of today's optical telecommunications market, segments of the industry-along with bandwidth-hungry applications-are continuing to create demand. One such segment is the need for connectivity between North American and European markets.
With that in mind, Interoute (London), a successful European carrier and builder of one of the largest pan-European fiber-optic networks, decided to set up shop across the Atlantic. The company will establish U.S. operations in Atlanta, with regional offices in New York City and San Diego, to service a growing number of U.S.-based global customers.
Interoute, a privately held company, built the i-21 network, connecting 45 European cities in nine countries across an 18,000-km cable. The network offers services that include dark fiber, wavelength services, SDH, and collocation. The company also offers Internet and carrier/business communications services to carrier customers, network operators, Internet and application service providers, and e-commerce companies.
The move to North America creates a physical Interoute presence where a business presence has resided for some time. The company is owned by a number of internationally based shareholders, the largest being the Sandoz Family Foundation, one of the world's largest private family foundations. Since its inception in 1995, it has successfully sold bandwidth to services to international companies in both the United States and Europe.
"Having a team on the ground that knows the customers and the market also makes sense because Interoute will be seeking strategic relationships with U.S. companies and carriers," says Les Hankinson, senior vice president of the newly established Interoute Americas. "Our competitive advantage is in having the largest fiber network ever built in Europe, the fact that we built it from the ground up, and that our structure is very customer-focused, that is, if it can be done, we will find a way to do it."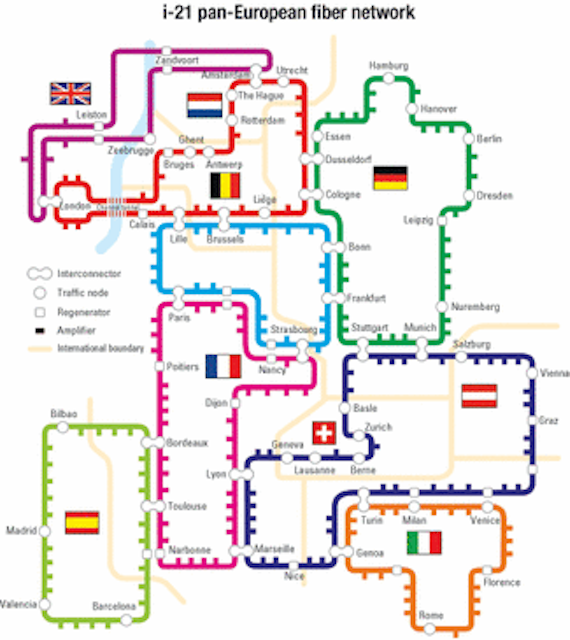 Interoute's i-21 network is one of the largest pan-European fiber networks, connecting 45 cities in nine European countries. The company plans to market its European bandwidth capabilities to U.S. customers through its new North American-based operation, Interoute Americas, headquartered in Atlanta.
Interoute's goal is to leverage its European assets to win business from North American companies that need a high-value network in Europe. The downturn economy may play into Interoute's hand as companies opt for buying rather than building network capacity. The company hopes to establish North American partnerships to extend its European capabilities as demand dictates.
How strong that demand will be in the short term is debatable. KMI Corp. (Providence), a telecom market-analysis firm, believes the supply of connectivity between North America and Europe is already substantial, probably more than enough to meet current demand. Market conditions may not be favorable and the competition Interoute faces will be sizable. However, Interoute has already outlasted much of its pan-European competition.
"Interoute's pan-European business has survived where others such as iaxis, 360networks, Pangea, Enitel, GTS, and Global Crossing have stumbled," says Neil Dunay, a senior analyst at KMI. "But Interoute will face intense competition in its North American plan from U.S. carriers with their own sizable pan-European networks." The competition, says Dunay, includes Level 3, KPNQwest, and WorldCom, not to mention 360networks and Global Crossing, which are not entirely out of the picture.
As in other international fiber-optic markets, Interoute believes there is still room for one more player and will use its U.S.-based operations to reach its share of North American customers. "Interoute will seek to expand its breadth and depth of market penetration with U.S. carriers, system integrators, ISPs [Internet service providers], and content providers as well as some enterprise customers who will benefit from a robust pan-European network," says Hankinson. "We have no plans to build or purchase fiber in North America at this time, nor do we intend to compete in the North American metro market."
The demand for pan-European network services, according to Hankinson, has grown significantly in the past 12 months, as Europe wades through its own telecom market slowdown. Where there was once an array of players with aspirations of building networks and deploying vast amounts of fiber across the continent, many have failed, pulled out entirely, or refocused in other markets.
"In a 'last man standing' mentality, we believe our fully funded business plan, lack of debt, a completed network, and the backing of investors such as the Sandoz Family Fund uniquely position us to win in this market," says Hankinson.
With "noncompetitive" competition-selling pan-European capability as opposed to directly competing for U.S. voice and data business-
Interoute doesn't consider itself a major threat among U.S. carriers. Rather, the company views itself merely as an alternative to carriers spending huge sums of money to build European networks themselves or to those not wanting to risk losing market share and customers that need a European capability.