Fiber-optic couplers to net $2.8 billion by 2010
Mar 1st, 2002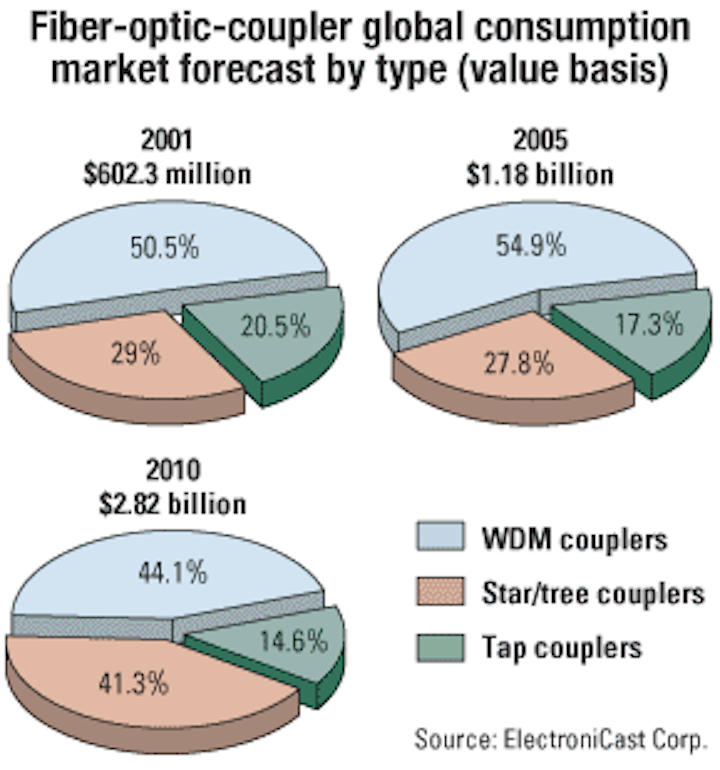 The estimated total consumption value of fiber-optic couplers will reach about $1.2 billion by 2005, up from $602 million in 2001, claims a new report from market researcher ElectroniCast Corp. (San Mateo, CA). Total consumption will jump to $2.8 billion by 2010, supported by rising quantity growth, slightly offset by a continuing decline in average prices.
"Global coupler consumption will be driven by the accelerating demand for high-capacity transport systems such as optical-fiber amplifiers, DWDM, and OADM [optical add/drop multiplexers]," explains ElectroniCast president Stephen Montgomery. "Couplers, in various forms, are enabling components used in a wide array of applications such as long-haul submarine networks, subscriber-loop networks, cable TV networks, test instruments, and sensors. The main use of couplers is for splitting or combining signals in today's capacity-hungry networks and will remain so in the foreseeable future."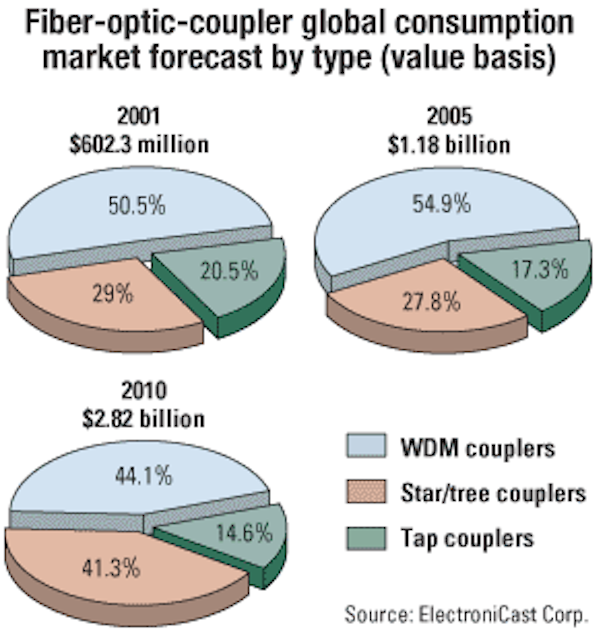 North America led global coupler consumption in 2001, composing 38% of the market or $229.7 million-a number that is expected to increase to more than $1 billion by 2010. Europe ranked second in fiber-optic-coupler usage in 2001 with 27% or $165 million, which will grow in value to $793 million by 2010. Germany, the United Kingdom, France, and Italy led European consumption.
WDM couplers captured 50.5% of the market in 2001, while star/tree couplers accounted for 29%. Star/tree couplers will see an average annual growth rate of 24.1% from 2000 to 2005, however, and a growth rate of 28.8% from 2005 to 2010 to reach a consumption value of about $1.2 billion, or 41.3% of the market.
For more information about the report, "Fiber Optic Coupler Global Market Forecast," call 650-343-1398 or visit the company's Website, www.electronicast.com.