Multifiber transmit link components to net $1.25 billion by 2006
Aug 1st, 2002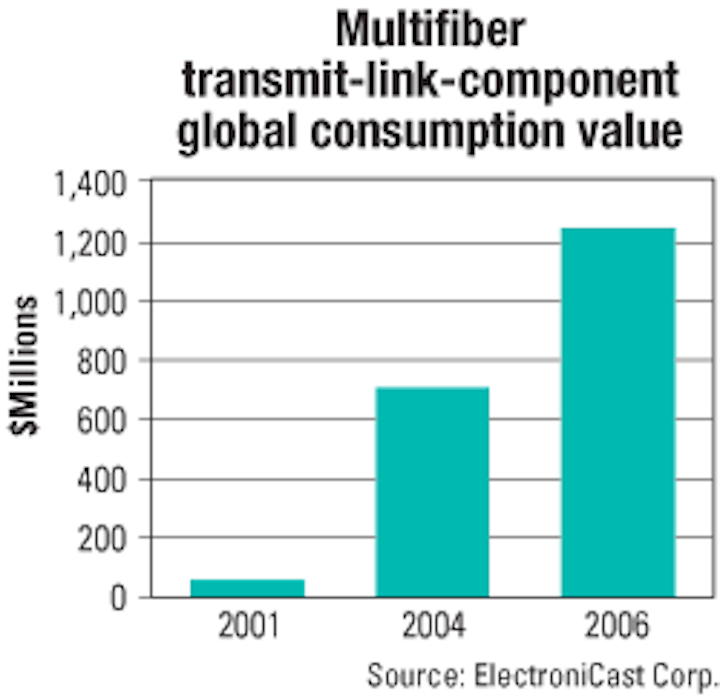 Worldwide consumption of multifiber transmit link components will jump from last year's $48.7-million mark to $1.25 billion by 2006, claims a new report from technology-based forecasting firm ElectroniCast Corp. (San Mateo, CA).
"Growth will be most rapid over the 2001-03 span, coming off the depressed consumption level of the overall fiber-optics industry in 2001, plus the fact that multifiber transceivers are now very early in their application lifecycle," contends ElectroniCast founder and chairman Jeff D. Montgomery.
According to the report, the multifiber transmit link is focused entirely on short (1-2-km) or very short (1-m) interconnects. Vendors in this space face competition on two fronts: from other multifiber transmit link vendors and from copper interconnect solutions, where the battle is waged based on cost per gigabit transported.
"The VCSEL [vertical-cavity surface-emitting-laser] diode-versus the edge-emitter laser diode-has emerged as the lowest-cost optical solution in this application," explains Montgomery. "The technical performance of VCSELs is advancing rapidly to higher data rates (10 Gbits/sec), greater power conversion efficiency, higher power output, and both singlemode and multimode 850-nm and 1310-nm solutions. It is not surprising that several multifiber transmit link competitors have a strong base in VCSEL research and fabrication."
For more information on the ElectroniCast report, "Multifiber Transmit Link and Components Forecast," visit www.electronicast.com.