Reach pulls back as Asia-Pacific long-haul continues consolidation
Mar 1st, 2005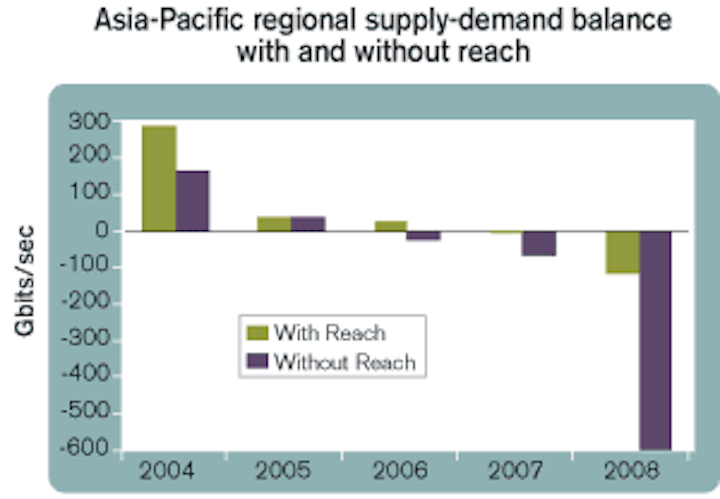 The announcement by Asian submarine-network carrier Reach that it would no longer offer international long-haul (LH) data connectivity to third parties should have come as no surprise to the market. In a recent report update on the Asia-Pacific submarine fiber-optic market, Pioneer Consulting assessed the competitive position of various carrier business models and came to the conclusion that "incumbents and well-established second operators will continue to dominate this market and lead any initiative for new construction. However, the 'Incumbent Joint Venture' model, consisting of two well-established international operators combining their resources, looks extremely vulnerable." Reach is an international bandwidth wholesaling joint venture between incumbent carriers Telstra of Australia and Pacific Century Cyberworks (PCCW) of Hong Kong.
While Reach's press release characterized this decision as a strategic move to preserve available and future data capacity for its own shareholders, the statement alludes to the highly competitive nature of the market and the need for "significant [market] restructuring for long-term viability and future infrastructure investment." The joint-venture partners have struggled almost since Reach's inception to meet their sales targets and maintain cash flow. Indeed, the venture has twice been bailed out, with a debt restructuring in 2003 and a cash-call on its shareholders in 2004.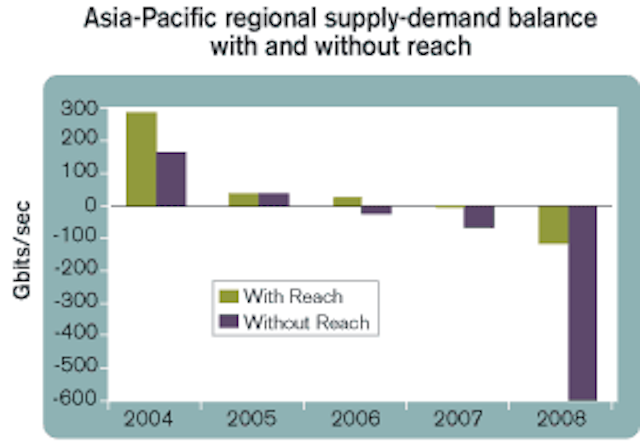 The removal of Reach's capacity from the Asia-Pacific market will significantly accelerate the region's return to a more propitious relationship between supply and demand.
The market certainly remains highly competitive as indicated by the Table. The natural process of industry consolidation was sparked in the Asia-Pacific market by years of capacity overbuilding. All competitors have undergone some form of restructuring. China Netcom took over Asia Global Crossing in 2003 and the Tata Group of India acquired the Tyco Global Network last year. FLAG Telecom emerged from bankruptcy protection and was sold off by its creditors to India's Reliance Infocomm, and C2C has had protracted negotiations over restructuring its debt. Only the consortium cables have remained unaffected because this business model does not have a P&L.
Removing Reach from the equation significantly impacts the timeline for when supply and demand in the Asia-Pacific region comes back into balance. That may represent a sufficient reduction in competitive pressure to slow bandwidth price decline and allow more positive market trends-increasing broadband-user penetration in the region, the injection of new capital from China and India, and the increasing number of regional "in-fill" cable projects-to assert themselves.
Pioneer's analysis indicates that the removal of a competitor of Reach's scale will bring forward the requirement for new submarine fiber-optic capacity in the Asia-Pacific region by two years (see Figure). This analysis looks at the overall regional supply-demand balance and does not take route-specific supply-demand balances into account. Most of the major intra-regional routes between key nodes such as Japan, South Korea, China, Singapore, and Hong Kong will remain well served by existing pan-Asian cable systems until 2008. However, most Asia-Pacific connections to Australia are made via the SEA-ME-WE-3 consortium cable, which has limited design capacity and a history of frequent cable breaks.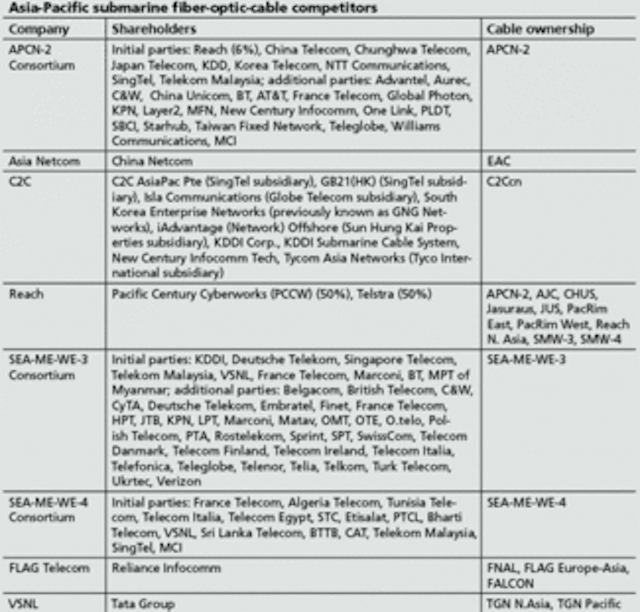 In 2001, TNZ, Optus, and SingTel were known to be investigating a proposal for a 9,800-km cable, known as "A2A," linking Singapore to Perth and Sydney, Australia, via Jakarta, Indonesia. Optus is now a wholly owned subsidiary of SingTel, which has recently refocused its LH strategy on the Asia-Pacific region. However, it's doubtful that SingTel would have the appetite for another "C2C-type" venture.
The fact that the "Nava-1" project, which was intended to address the lack of connectivity from Australia to the rest of the Asia-Pacific region, was unable to obtain funding and eventually abandoned may indicate the difficulty in addressing the Australian opportunity. But the recent boom in demand for broadband services in Australia may have improved the business case.
Even before Reach's announcement, there were encouraging signs that regional demand growth was steadily eroding the capacity overhang that has dogged the Asia-Pacific regional bandwidth market in the last few years and driven most competitors to the wall. However, the need for new submarine fiber-optic systems was still four to five years away. But the removal of a major player from the carriers' carrier market significantly impacts the supply-demand situation and gives cause for optimism that it will not be too long before we see new regional cable projects announced. It is somewhat ironic that it has taken the withdrawal of Telstra and PCCW to achieve this shift, when one of the routes identified by Pioneer as having significant potential is between Australia and Hong Kong.
Julian Rawle is senior market analyst at Pioneer Consulting (North Adams, MA).