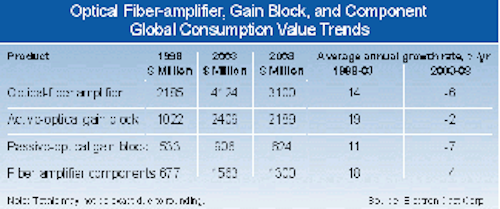 The global consumption of optical-fiber amplifiers will increase steadily for the next three years, dropping off by 2008 as the deployment of long-distance links decreases. A new study, released by ElectroniCast Corp., a market forecast company based in San Mateo, CA, analyzes the 1998 global consumption and production of optical-fiber amplifiers and provides a ten-year forecast of the market.
The report, North American Optical Amplifier, Gain Block and Components Market Forecast, is segmented into the significant end applications, as well as by amplifier types. In the report, optical-fiber amplifiers are defined as including the active optical-gain block, plus all required electronics for operation in the intended application. Detailed forecasts are also included for optical-fiber gain blocks, used in the fabrication of the optical-fiber amplifiers, along with various components used to assemble the gain blocks.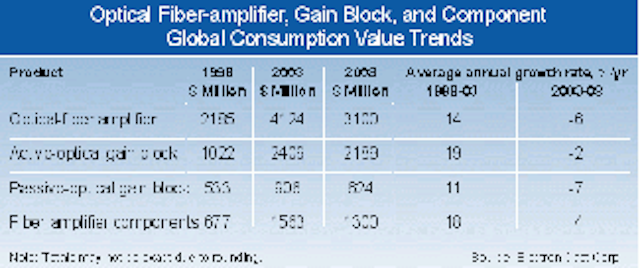 According to ElectroniCast's research, from 1995 to 1999 there has been a rapid shift toward acceptance of DWDM technology in optical-fiber transport as an alternative to TDM or additional fiber deployment. Stephen Montgomery, president of ElectroniCast, says DWDM links require more amplification and flatter gain characteristics over a wide band, compared to single-channel transport. The broadband amplifiers are more expensive and their increased deployment is a significant factor in the continued growth of optical fiber amplifier deployment values.
North American applications accounted for 49% of global optical-fiber-amplifier consumption value in 1998. The report indicates this was strongly influenced by phasing in the deployment of terrestrial interexchange cable. ElectroniCast's research concludes the North American share of global-consumption value will remain at 49% in 2003, declining to 42% or $1.31 billion by 2008.
ElectroniCast's complete report is available for $8250 by contacting Theresa Hosking at (650) 343-1398, fax (650) 343-1698.