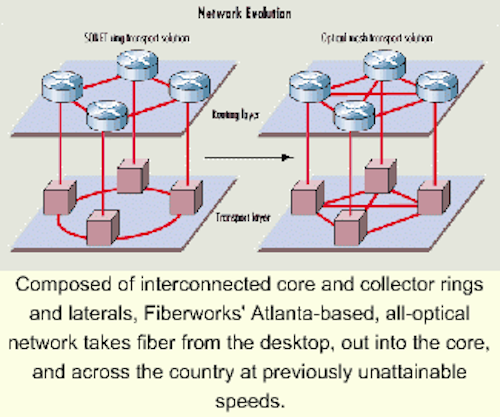 By MEGHAN FULLER
NETWORKS
Facilities-based carriers' carrier Fiber works Inc. (Lawrenceville, GA) has begun deployment of what it considers the most extensive set of all-optical metropolitan local-access networks in the United States, aimed at replacing the existing "last mile" copper infrastructure with fiber. Beginning in Atlanta and rolling out to 14 additional cities in the next three years, the network will feature next-generation DWDM equipment from Nortel Networks (Ontario) to provide ultra-high-speed bandwidth directly into buildings. While Fiberworks' president and CEO, Scott Burkholder, admits that the network architecture is "not a great stretch from what we've been seeing in fiber optics over the past 10 or 15 years," what makes the network unique is its operation as a carrier-agnostic wholesale business model.
For Fiberworks, the end users are the buildings themselves. Its customer base encompasses ASPs/ISPs, IXCs, CLECs, and in-building LECs, including Allied Riser, Cypress, Enron, and Urban Media, which deploy fiber infrastructure within buildings. Fiberworks provides the fiber-optic link from its access network directly into the building, enabling its customers' tenants to enjoy fiber all the way to the desktop, out to the core, and across the country at previously unattainable speeds.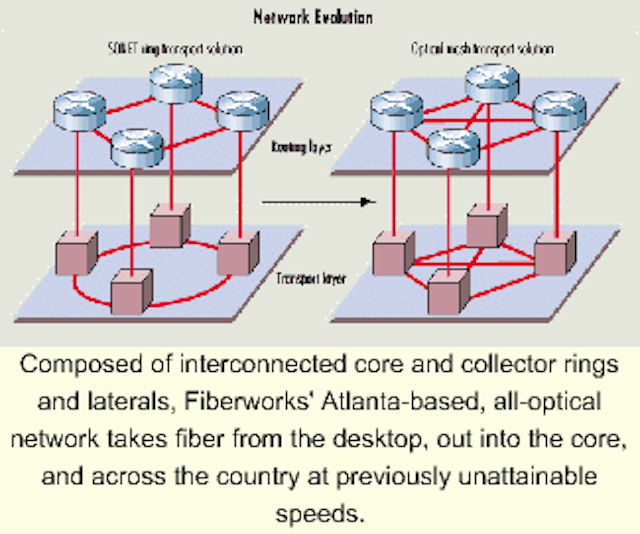 Composed of interconnected core and collector rings and laterals, Fiberworks' Atlanta-based, all-optical network takes fiber from the desktop, out into the core, and across the country at previously unattainable speeds.
Ignoring the notion that fiber is just too expensive to deploy in the last mile, Fiberworks has designed its network to be shared among many carriers. While individual carriers might not have enough traffic to justify the expense, Burkholder maintains that "it makes sense for carriers to share [their] network, because [they] have so much bandwidth to work with and have the potential for so much additional bandwidth."
The proposed deployment is essentially a rebirth of the competitive access provider (CAP) business. Explains Burkholder, "We're offering an alternative to the local telephone company for the access transport portion of the network, and we'll haul their traffic back to any of their PoPs [points-of-presence] or we'll hand it off to an Internet PoP or some kind of telecom CO [central office]. And then the carrier will handle it from there on the long-haul network."
The core ring in Atlanta's Central Business District will be 110 mi around, representing 220 fiber-mi, and will provide transport and managed services to 2,000 Atlanta-based buildings. In addition, the company is embarking on a construction project to bring collector rings deeper into the network. From the core and collector rings, Fiberworks will deploy its fiber laterals directly into the building. The network is self-healing and IP-based and supports an initial capacity of 80 Gbits/sec.
The Fiberworks network is also non-proprietary and platform-independent, thanks to a three-year, $60-million contract with Nortel Networks. Per the agreement, Nortel will provide its OPTera Metro 5200 fault-tolerant, DWDM data-optimized, multiservice platform that can support many different services, including Gigabit Ethernet, IP, ATM, Ficon, Escon, and Fibre Channel, as well as the traditional OC-3, OC-12, and OC-48 services. Asserts Burkholder, "[Our customers] love the fact that it's a non-proprietary, platform-independent solution, so they're not locking up their tenants with any one specific service provider. We can service them all with our infrastructure."
According to Sohale Mufti, vice president of market development for Nortel's Optical Internet Group, the Fiberworks model is attractive to Nortel because it is the first of many in a space Nortel has identified as the Optical Local Exchange Carrier (OLEC) market. The space includes anyone who provides optical connectivity to end users, and Nortel is very much interested in breaking into it.
"Nortel has had its leadership in the long-haul space," says Muti, "and this is our way of now working into the new carriers to get the same kinds of things we did in the long-haul side into the local metro markets as well."
Though still evaluating products out on the edge of the network, Fiberworks intends to use as much of Nortel's equipment as possible. The company is outsourcing the network operation center to Nortel, and while Nortel has the expertise to manage both its own equipment as well as others', Fiberworks would rather not rely on unproven first-generation equipment. "We'd like to be with one vendor," explains Burkholder. "It makes the management and operation of the network much simpler and more efficient."
The 15-city deployment, targeted for completion at the end of 2002, will encompass Dallas/Fort Worth, Austin, and San Antonio, TX; Miami/Fort Lauderdale, Jacksonville, Tampa/St. Petersburg, and Orlando, FL; Charlotte and Raleigh/ Durham, NC; Greenville/ Spartanburg, SC; Nashville, TN; Birmingham, AL; and New Orleans, LA. At press time, Fiberworks did not have plans for a national rollout, opting instead to stay within the southeastern United States. Asserts Burkholder, "It's our understanding that most traffic in the Southeast stays in the Southeast; it doesn't look like traffic out of a Chicago or a San Francisco. So we think our network will be able to provide services to a whole host of carriers."
When complete, the network will comprise 388 route-mi that will pass within 6,000 ft of 1,983 buildings, providing optical networking and broadband services to 19,380 businesses and 585,000 employees.