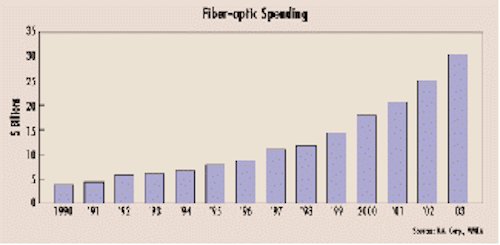 Spending in the fiber-optic market has more than tripled in the past decade, increasing from $4.1 billion in 1990 to $14.6 billion in 1999, according to the "2000 MultiMedia Telecommunications Market Review and Forecast," jointly compiled by the Telecommunications Industry Association (TIA-Arlington, VA) and its subsidiary, the MultiMedia Telecommuni cations Association (MMTA). The study also projects that spending on fiber-optic equipment will increase from $12.2 billion in 1999 to $28 billion in 2003, which represents a compound annual growth rate of 23.1% (see Figure).
"The phenomenal increase in fiber-optics spending reflects the growing demand for access to broadband service," reports MMTA president Mary Bradshaw. "We'll see the fiber market continue to grow to accommodate the increasing reliance worldwide on the Internet as a business and communications tool."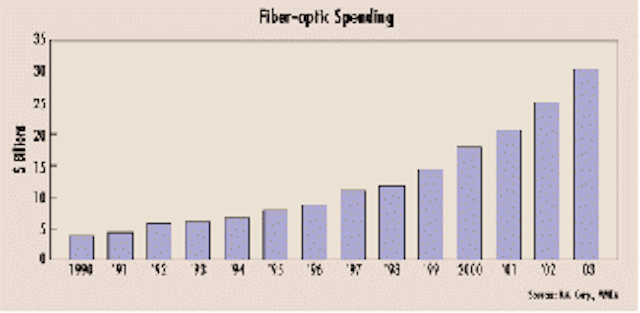 The study determined that enterprise providers spent $116.4 billion on professional and technical services in support of voice and data-communications equipment in 1999, an increase of 18.1% over the previous year. For Bradshaw, the growth in these services proves that while business customers want high-end applications, they do not want to be their own integrators. "For network service providers and enterprise solutions suppliers alike, the data suggests the market drivers are the same: applications. Solve the end user's business problems and the technology sales will follow," she adds.
Voice/data enterprise equipment was the largest dollar-value category in 1999, with revenue totaling $75.8 billion, an increase of 11.5%. The fastest-growing categories provided equipment for high-speed data transmission; double-digit increases were reported for Ethernet switches, network-management equipment, routers, and operating systems, as well as ATM, integrated services digital networks, and frame relay.
"The 2000 MultiMedia Telecommuni cations Market Review and Forecast" features statistical analysis of the U.S. telecom industry and growth areas in international markets. For more information or a copy of the report, call (703) 907-7723, or visit www.mmta.org.