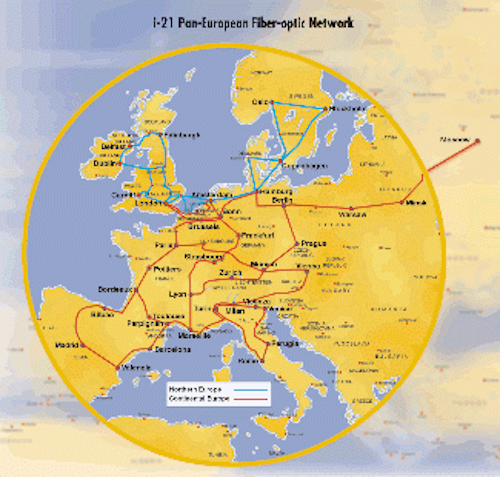 Networks

By ROBERT PEASE
Europe's most aggressive cross-border fiber-optic network will begin service over 15,000 km of its planned 20,900-km backbone by the end of this year. The i-21 network will operate in 17 European countries and reach more than 70 cities with over 8 million km of the latest G.655 optical fiber-enough to circle the globe 200 times.
i-21, a subsidiary of Interoute Communications Group Ltd. (London), an nounced its network project in June 1999 (see Lightwave, August 1999, page 25). The initial layout and preparation for the network had been underway since 1998. The initial phase involves laying 48 fiber pairs with a minimum two-duct spare in every part of the network and, in some cases, deploying up to eight ducts for future expansions.
"We can pull more fiber continually to keep expanding and building on the network," explains Ainsley Jefferson, director of network systems at i-21. "We have one conduit in use, one for maintenance, and a minimum of one more for expansion. In some cases, such as in Spain, we have up to seven spare conduits. These are multiple conduits based on a tri-duct molded system or, basically, three ducts glued together."
The initial phase of the network will be capable of transmitting 10 Gbits/sec over 40 wavelengths per fiber pair, equating to a 400-Gbit/sec capacity from day one. The system spacing and design will enable the capacity to scale upward by increasing wavelength counts, transmission speed, or fiber. In fact, i-21 is touting the project as Europe's first petabit network.
Although petabit transmission capabilities are forward-looking, the explosive growth of data and the Internet has not been lost on the network designers at i-21. With the ability to lay 192 fiber pairs of the latest generation of fiber-optic cable in up to five ducts, use of advanced transmission equipment that enables 160 lambdas on each fiber pair, and line speeds of 10 Gbits/sec, i-21 claims the network will be "petabit capable" when future demand warrants it. Major network design changes, says Jefferson, will not be necessary.
The i-21 fiber-optic network is based on dense wavelength-division multiplexing (DWDM) as the first layer and Syn chronous Digital Hierarchy as the second layer. Phase one, totaling approximately 15,000 km, will consist of eight rings criss-crossing Europe through cities, including Berlin, Paris, Madrid, Rome, and Vienna. Planned extensions will eventually reach west to Moscow, north to Oslo, northwest to Belfast, and south to Sicily. The cost of the network through completion of the first phase will total about $1.44 billion.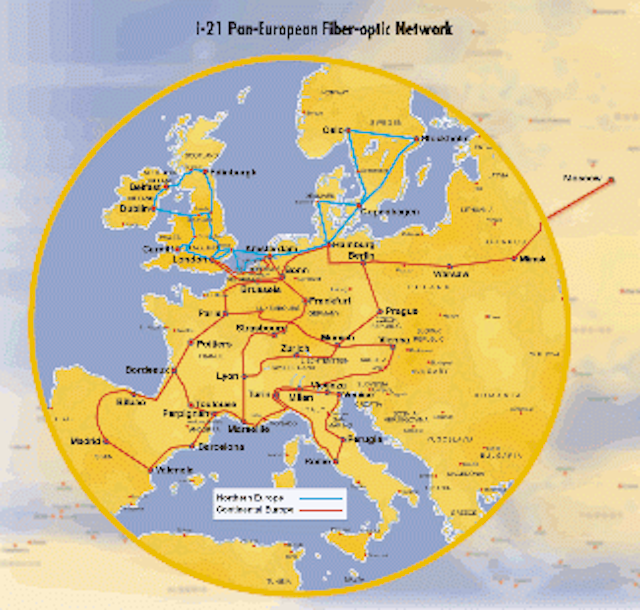 The i-21 pan-European fiber-optic network will eventually grow beyond 20,000 km through 17 countries and more than 70 major business and financial centers. Phase one consists of eight fiber rings, and additional plans are underway for more rings and extensions reaching Moscow, Scandinavia, the United Kingdom, and Sicily.

The two major vendors for the i-21 network are Alcatel (Paris) and Corning (Corning, NY). Alcatel is constructing the network and providing full turnkey network services and was chosen specifically for its European network experience.
"We have Alcatel as a strategic vendor to supply a seamless texture across the network," says Jonathan Noland, i-21's executive vice president of business development. "The founders and shareholders appreciate that having a single network texture from a technology point of view allows us to do things better. By not adding the complexity of marrying different manufacturers' equipment, we'll gain better provisioning, better operations, and better performance."
With the scale of the i-21 network, Corning netted one of its largest customers for its LEAF fiber product. LEAF fiber allows more power to be pumped through the fiber, enabling longer distance between amplifiers and longer system length without the occurrence of detrimental nonlinear effects. For i-21, the benefits include more bandwidth per fiber-km for less cost.
The vision of i-21 was born out of opportunity. The general consensus within the European telecommunications market seems to be one of "If you build it, they will come." Analysts tend to agree that Europe and the Internet are ingredients for fiber-optic network success. In light of the deregulation of the European telecommunications infrastructure, the need to unblock the bottlenecks in local loops, and the ever-present driver of enormous data-traffic demands, it's little wonder there are upwards of a dozen pan-European networks currently under construction.
A market report released by the Yankee Group, a Massachusetts-based telecommunications research firm, suggests European Internet traffic (time online) will jump from 145 billion user minutes in 1999 to 400 billion user minutes by the year 2003. In turn, the annual demand for bandwidth will increase by 600% during the same period.
"If you go back to the old days of the computer, everybody was looking for the killer application," says Noland. "We found the killer application to be the Internet. Now, we're putting together a very aggressive footprint across Europe that is purpose-built to maximize DWDM. We're putting large trenches of capacity into the market with the belief that capacity will be like oxygen to plants, allowing substantial growth. We're betting on the fact that demand will exceed expectations."
Noland says recent telecommunications reports indicate that every system put into service has been successful, especially submarine cables. That's the underlying theme for i-21: Put capacity into play at price points that stimulate not only existing applications but a whole range of new ones. It's not a question of everyone getting a piece of the pie, it's to actually expand the pie.
"There's a strange phenomenon going on," says Noland. "I'm an old telecom guy, and I'm trying to move from telecom into the IP [Internet-protocol] space. ISPs [Internet service providers] view the network as transparent. They don't really care about the network itself. That's good for us and bad for us. It's good because we can put something in place that enables the ISP to have a transparent network. But it's a lot of work to enable that level of transparency. But that's a space we're trying to fill-letting the ISPs focus on applications by providing that consistent transport layer that allows them to have a transparent capability."
There are lots of hurdles in building cross-border networks, particularly when facing different regulations, licensing, and other legalities within each country. The designers of i-21 say that although the apparent obstacles of such an ambitious network aren't unforeseen, it's still a lot like putting together a 10,000-piece jigsaw puzzle. The problem is that the puzzle grows along with the network.
"We knew it was going to be complicated, and we're really sort of in the midst of the battle," says Jefferson. "It takes thousands of decisions to realize a network like this, but that's what we're undertaking. So if it sounds a little overwhelming, it's because it's such a large network and not so much because of anything unforeseen."
But each step of the network requires infrastructure licensing, rights-of-way, building permits, and once the network is built, an operator's license to operate it. A tremendous number of legal hurdles must be overcome before the network can be built.
"The i-21 network isn't being built in serial-it's being built in parallel," says Noland. "It crosses 17 countries, so the level of complexity is the level of consistency across the topology. As you cross countries, you cross different regulatory regimes and different local regimes. Building a submarine cable doesn't require rights-of-way. You just have to acquire landing points. But terrestrial builds are much more complex. It's not only an exercise to realize the asset, it's also knowing enough to operate in the environment. The scope of this project alone lends itself to a very high level of complexity."
Yet, even as the complexities of the network's initial phase are overcome, the network continues to grow. The company plans to have 90% of the construction phase completed this year, connecting the major business and finance centers across Europe. Already, plans are brewing to add more cities, including many that have been bypassed by other networks. Extensions are being planned to Moscow, Scandinavia, the United Kingdom, and other regions.
"We recently held a press conference in Italy about plans to extend the network down to Sicily, says Chris Nuttall, director of communications at i-21. "At the moment, the most southerly point in the network is Rome, but we have recently secured rights-of-way into the foot of Italy and around Sicily."
The i-21 network adheres to strict principles in its design. For example, the underlying fiber of the build will be consistent, using only G.655 fiber-in this case, Corning LEAF. Each new decision, such as the extensions for Moscow and Scandinavia, requires a business case. The company is optimistic about demand in the areas of Europe that it is currently building in and plans to deploy fiber ahead of the projected demand.
In other regions that are still in the process of developing their business and finance centers, i-21 feels aggressive deployment of multiple conduits of 48 fiber pairs may be too early. Once the backbone is in place and operating, however, more opportunities could emerge and i-21's footprint will likely enlarge. Two other telecommunications markets will also beckon i-21 once the initial backbone is in place: global connectivity and access.
"I'd say the global connectivity and local-access pieces will follow behind the completion of the network itself," says Noland. "But how many battles can we fight simultaneously? We don't want to dilute the resource and focus that we have by opening up additional fronts. So we're being very deliberate in maintaining the focus. It may appear to be narrow, but we need to realize the network on schedule and within budget and start delivering on the initial promise."
Competition in Europe appears to be a "non-issue" for pan-European network builders in terms of demand versus capacity. As the networks light up, Noland believes everyone will initially meet with success because the proverbial pie will expand to afford everyone a piece. However, as the demand continues, some initially successful carriers are likely to be dwarfed by others with technological advantages.
"A lot of the pan-European networks being built today have been 'assembled' and are not necessarily purpose-built designs," says Noland. "If you look closely at who has G.655 and who has G.652 or who owns the underlying infrastructure or ducts or who is leasing from a third party or who has control of the infrastructure, then you'll start segmenting out who really has the gems. We're counting on having the competitive advantage, as technology is driven in orders of magnitude, to really fulfill the full promise of what we're putting in place."
Another point of differentiation may be that i-21 is not selling dark fiber. It plans to cater to customers that appreciate the quality, flexibility, and scalability of the i-21 network. The carrier is selling itself on the premise that, due to its network's uniformity and ability to grow with tomorrow's technology, it will meet the capacity demands today and for years to come.
As Noland puts it, "If you use the finest chocolate, the best sugar, and the best flour in the world, it really should be a delicious cake."