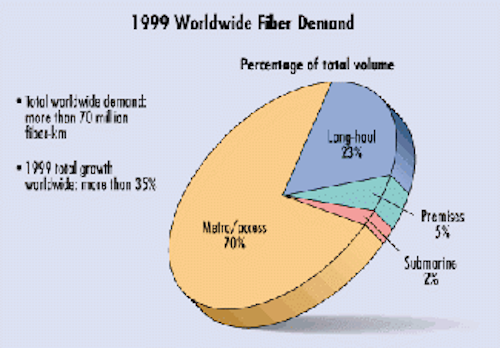 Trends

By ROBERT PEASE
Corning addressed a packed audience at its annual fiber business briefing during the 25th Conference on Optical Fiber Communications (OFC 2000) at the Baltimore Con ventionCenter. The meeting was attended by the usual smattering of media, analysts, and consultants, all eager to get Corning's take on the condition of the optical-fiber and photonics market. After all, the company depends on its fiber cable and photonics business for 70% of its annual revenues.
In 1999, according to Corning's data, the worldwide demand for fiber grew by more than 35% over the previous year. In photonics, growth was even more impressive with a more than 60% increase over 1998. The outlook for the future is positive, with continued growth predicted at approximately 30% for 2000, led by North America and Europe.
The worldwide demand for optical fiber in 1999 totaled more than 70 million fiber-km, representing an overall growth rate of more than 35% over 1998. North America led demand with 45%, followed by Europe with 25%. The remaining market shares went to the Asia-Pacific region with 15%, Japan with 10%, and 5% to Latin America and the rest of the world. Alan Eusden, vice president and general manager for Corning's telecommunications products division, presented the 1999 growth rate for each region.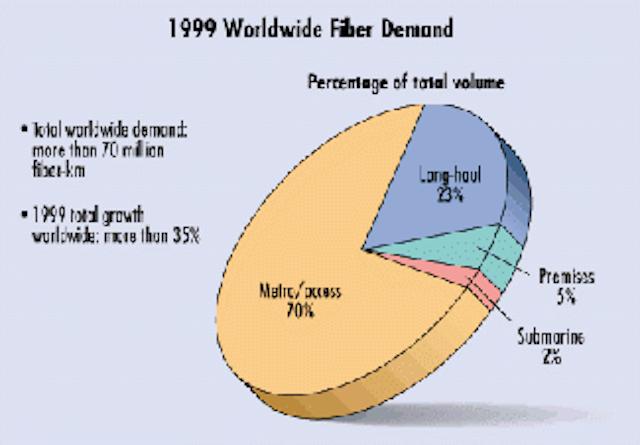 Figure 1. Although the metropolitan/access market led the total volume of fiber demand at 70% in 1999, the largest increase in demand was for submarine fiber, growing 55%, followed by long-haul fiber, growing 45%. Metropolitan/access demand showed 40% growth.


According to Eusden, the North American market grew 45% in 1999. Growth is expected to continue, though at not quite as high a level, through 2000. Europe and Asia also enjoyed good growth in 1999 with 40% and 25%, respectively. China is expected to be the catalyst for continued growth in the Asia-Pacific region in 2000. Japan's market, rebounding from its 1998 recession, increased 40% but is projected to slow to around 15% in the coming year. Latin American consumption increases topped 35% in 1999.
For North America, which accounted for nearly half of the total worldwide demand in 1999, Corning provided estimates of how various market segments contributed to the region's 45% growth rate. Individ ually, long haul in creased 80%, cable TV 50%, local exchange 15%, and competitive local-exchange carriers (CLECs) 60%. The remaining market segments, including premises applications, grew 50%.
Corning presented growth rates for optical fiber and photonics in four applications segments: submarine, long-haul, metropolitan/access, and premises (see Figure 1). Looking at 1999's fiber growth rates in these categories, Eusden noted exceptional growth in each segment. Submarine applications, composing about 2% of 1999's total fiber demand grew 55%. Long-haul fiber applications comprising 23% of the total grew about 45%. The metropolitan and access segments, making up about 70% of the total demand, grew approximately 40%.
Premises applications, representing about 5% of the total, grew approximately 15% in 1999. Eusden expects a noticeable increase in this segment over the next few years, saying that fiber-to-the-desk applications are "poised to take off." Corning is also observing the lines beginning to blur between categories that were more easily distinguished in past years.
Photonics grows, too * Gerald Fine, vice president and general manager for Corning's photonic technologies division, offered an equally optimistic outlook for photonics modules and components used in building high-data-rate telecommunications networks. The growth rate approached 60% in 1999 and is expected to pick up the pace in 2000, reaching more than 70%. Fine believes the photonics market will grow in step with the emerging metropolitan-networks market segment, reaching growth rates in excess of 100% over the next five years.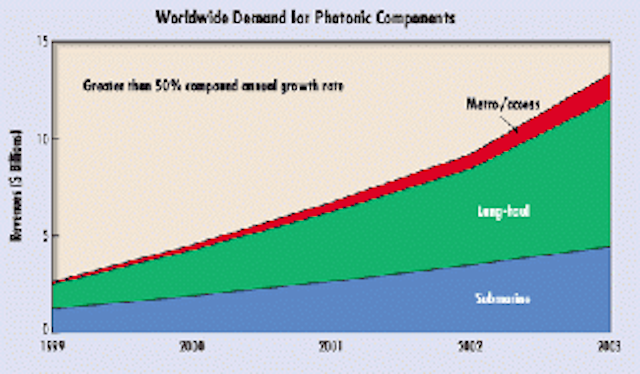 Figure 2. Photonic component revenues combined for a more than 50% compound annual growth rate in 1999, distributed among submarine, long-haul, and metropolitan/access applications. These three markets, along with a hot new premises market, are expected to enjoy healthy growth in 2000 and beyond.

Fine divided the demand for photonics into the same four categories as fiber, showing submarine applications accounting for about 40%, long-haul comprising 57%, and metropolitan/ access accounting for 3% (see Figure 2). Premises applications, however, expected to increase significantly in the next few years, accounted for less than 1% for 1999.
Long-haul submarine capacity is increasing with global demand for Internet traffic. The result of increased demand for 10-Gbit/sec 980-nm pump systems and increases in the complexity of undersea repeaters will multiply the demand for components in this market.
The European market is projected to grab more of North America's long-haul market segment as new pan-European long-haul carriers start to emerge. Greater bandwidth demand and major deregulation of utilities have established a favorable economic environment for growth potential through 2000.
In the metropolitan and access space, the customer's need for individually bundled services and demand for information will drive the market upward. The metropolitan market is expected to transition into more commercial deployments. The premises market, particularly in deploying Gigabit Ethernet protocol, is expected to take off in 2000, driven by climbing data rates in the riser and backbone. Fiber should become less expensive, while copper, due to more difficult standards and additional testing, will increase in cost.
As if to drive home the predictions of rising fiber demand for metro politan and premises applications, Corning leveraged a captive audience to tout the latest in its line of specialty fibers, MetroCor.
The new fiber is designed to lower operating costs, increase reliability, and enhance flex ibility of metropolitan networks. MetroCor operates across the entire usable bandwidth from 1,280 nm to 1,625 nm and is fully compatible with existing singlemode fibers.