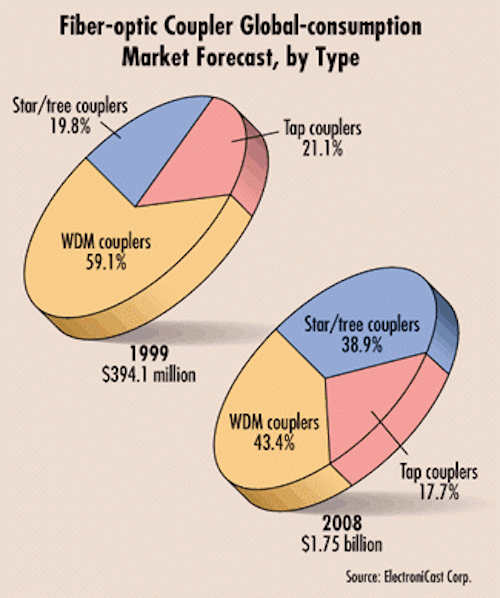 Worldwide consumption of fiber-optic couplers will increase more than 400%, from $394.1 million in 1999 to $1.75 billion by 2008, according to a new study by technology-based forecasting firm ElectroniCast Corp. (San Mateo, CA). This dramatic increase in coupler usage will result from the growing demand for high-capacity transport systems such as optical-fiber amplifiers and optical add/drop multiplexers. "The main use of couplers is for splitting or combining signals in today's capacity-hungry networks and will remain so in the foreseeable future," predicts ElectroniCast president Stephen Montgomery.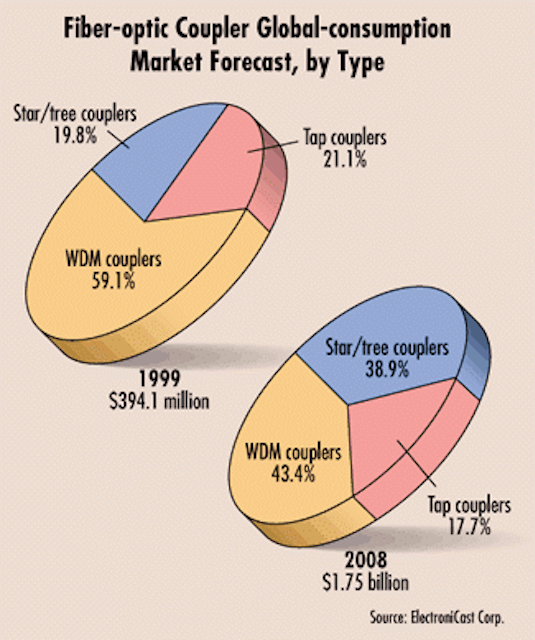 North America captured the greatest fiber-optic coupler market share in 1999 at 38% or $149.7 million, followed by Europe at $108.9 million or 27.6%, led by Germany, Italy, France, and the United Kingdom. Japan and the Pacific Rim composed 26% or $102.6 million. At the end of the forecast period, North America will still lead consumption with $664.3 million, followed by Europe at $491.9 million, and Japan/Pacific Rim at $454.5 million.
The telecommunications industry led in terms of coupler consumption, capturing 59.3% of the market in 1999, with a total consumption value of $233.5 million. Though this market share is projected to dip slightly to 56% by 2008, total consumption is expected to increase to $980.1 million. Ranked second is premises data local-area-network consumption, which is projected to increase from $19.1 million to $103.8 million through the forecast period.
Wavelength-division multiplexing couplers captured the greatest market share in 1999 with 59.1%, followed by tap/splitter couplers at 21.2% (see Figure). Star and tree couplers held 19.8% of the total market share in 1999 but should see significant growth during the forecast period to reach a consumption value of $680.7 million or 38.9% of the market share.
For more information or a copy of the report, "The Fiber Optic Coupler Global Market Forecast," call (650) 343-1398 or visit www.electronicast.com.