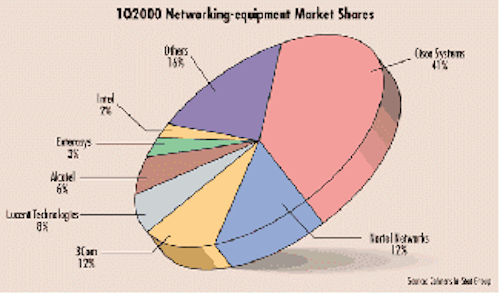 Even though the worldwide networking-equipment market reached $10.8 billion in the first quarter, that's a mere 3% increase over the previous quarter. Analysts attribute this less-than-stellar growth to typical first-quarter sluggishness, however, and expect to see year-end totals hit the $50-billion mark.
According to a new report from high-tech market-research firm Cahners In-Stat Group, the networking-equipment market will see more robust growth in the near future, propelled by enterprise backbone purchases and continued service-provider build-out. Says In-stat analyst Gemma Paulo, "With the exception of high-end switches, LAN equipment markets are suffering from rapid price erosion. Top vendors have pushed into the lucrative WAN equipment markets, targeting service providers."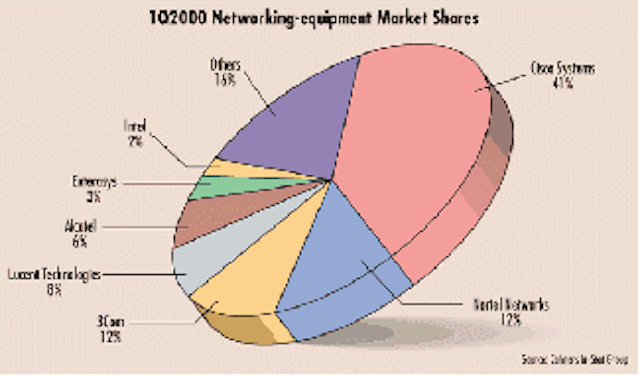 Quarter-to-quarter growth was propelled by revenue from WAN equipment, including digital modems, ATM WAN switches, and voice-over-Internet Protocol (VoIP) gateways. The 7% growth in ATM switches, which was better than expected, was driven by an increase in the deployment of broadband services, VoIP, and network convergence. The combined revenue for DSL and cable modems increased 28% and is expected to continue growing as deployment obstacles are overcome.
First-quarter networking hardware sales were dominated by North American vendors, who captured 53% of the market. According to In-Stat analysts, however, the European and Asian markets are "building-out service-provider infrastructure at an unparalleled pace." In fact, Europe, Asia, and Latin America combined are expected to account for the major market share of networking hardware revenues in the coming quarters.
Cisco Systems captured the largest market share, followed by Nortel Networks, 3Com, and Lucent Technologies (see Figure). The first quarter was marked by changes among the industry leaders; both Lucent and 3Com moved away from the enterprise market in the first quarter, and 3Com experienced declining sales due to its reorganization.
The report, "Q1 State of the Networking Equipment Market," provides quarterly market shares and examines the technologies and trends impacting the overall networking hardware segment. For more information, call (480) 609-4533 or visit www.instat.com.