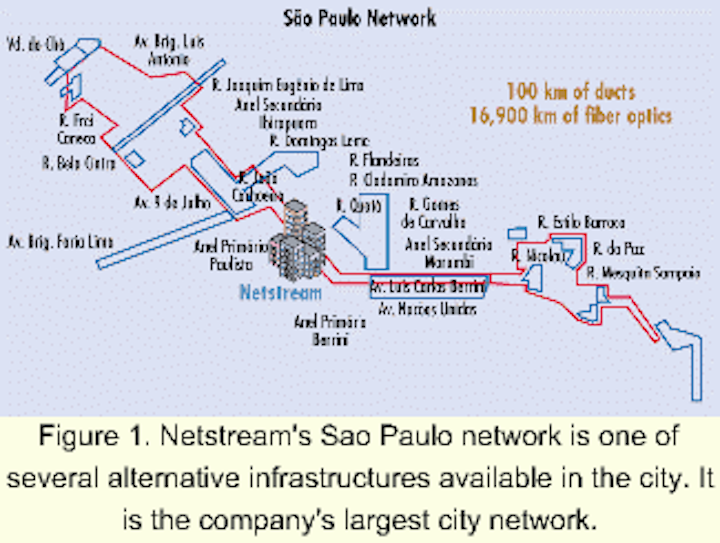 BY PETER HOWARD WERTHEIM and DAYSE ABRANTES
TRENDS
After paying $300 million in August 1999 to acquire Netstream, a Brazilian company that supplies fiber-optic communications services for the corporate market, AT&T estimated that high-speed data services would expand over 20% per year in Brazil. With estimated 1999 revenues of $2.5 million and projected 2000 revenues of $13 million, Netstream must expand quickly to compensate for AT&T's substantial investment. AT&T's financial strength will allow for faster network build-out and bring additional technical and marketing expertise to facilitate the necessary expansion of revenues. However, the presence of other strong players in the market-and uncertainty about the demand for services-may delay full repayment of the American giant's investment.
AT&T purchased Netstream from Promon Tecnologia, a group specialized in voice, data, video, and Internet communications services for corporate clients. With its two-and-a-half-year planned investment of $168 million in the Netstream network, Promon undertook a daring project in Brazil's growing corporate services market, building an advanced fiber-optic network and offering sophisticated services. After less than one year in operation, the AT&T acquisition provided clear reassurance of Promon's vision as well as a tidy profit.
Based in Sao Paulo, Netstream currently operates a multiservice fiber-optic network with coverage in Sao Paulo (Figure 1), Rio de Janeiro (Figure 2), and Belo Horizonte (Figure 3), capital of Minas Gerais state. Since its service launch in October 1998, Netstream has secured 658 corporate clients and installed more than 28,855 km of fiber in these cities, Brazil's most important business centers. AT&T officials state that the company will continue to expand Netstream's network to serve the cities of Brasília, Brazil's capital; Curitiba, capital of Parana state; Porto Alegre, capital of Rio Grande do Sul state; and Salvador, capital of Bahia state.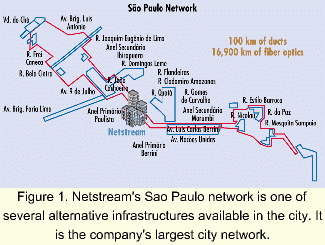 Figure 1. Netstream's Sao Paulo network is one of several alternative infrastructures available in the city. It is the company's largest city network.
Netstream has installed 204 km of underground duct and 315 km of cable, according to Daniel Gama, the carrier's installation director. Claudio Baumann, Netstream's vice president for corporate services and products, reveals the network uses cables of 144 fibers (primary rings), 72 fibers (secondary rings), and 24 fibers (building access). The Netstream network features an initial capacity of 10 Gbits/sec, but is designed to handle large volumes of information and offer access at speeds up to 155 Mbits/sec. The network's design guarantees full backup and redundancy.
Prior to Netstream's market entrance, customers would normally have had to wait from six to nine months to install a new access line. Netstream offers telecommunications service providers fiber links at speeds up to 2.5 Gbits/sec in metropolitan areas and international connections at 64 kbits/sec and higher.
Some of the main equipment being used by Netstream includes SDH gear for the basic network, telephone exchanges, frame relay switches and ATM transmission equipment for data and other applications, Internet Protocol (IP) routers, and dial-in equipment for access, says Gama. Equipment providers include Cisco Systems, Siemens, Nokia, and 3Com. The routers and switches came from Cisco, SDH and Plesiochronous Digital Hierarchy (PDH) from Nokia, EWSD voice switching from Siemens, servers from Hewlett-Packard, and the billing system from CBP Saville, according to Baumann.
Despite its strategic positioning, AT&T/Netstream has encountered stiff competition for its share in the corporate services market. For example, MetroRED, owned by a group formed by Fidelity Capital and Boston Ventures, has been offering specialized circuits and dedicated lines since 1998, and already has more than 170 km of fiber installed in Sao Paulo and Rio de Janeiro. MetroRED is offering considerable competition to AT&T in the Sao Paulo and Rio markets for broadband fiber access, despite the fact that MetroRED has chosen to offer dark fiber and not a full array of services.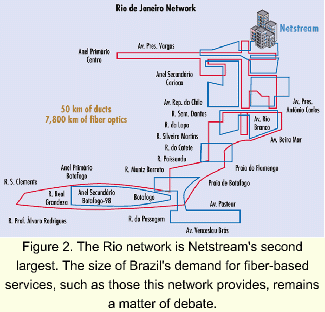 Figure 2. The Rio network is Netstream's second largest. The size of Brazil's demand for fiber-based services, such as those this network provides, remains a matter of debate.
Pegasus, a corporate services provider owned by the Brazilian company Andrade Gutierrez, has a network installed along the Dutra Highway (from Rio de Janeiro to Sao Paulo state) and plans to include fiber along roads linking Belo Horizonte, Brasilia, Curitiba, and Porto Alegre. In Sao Paulo, Pegasus is also installing fiber-optic cables along the metropolitan railway of Companhia Paulista de Trens Metropolitanos (CTPM). Pegasus recently inked an equipment contract with Alcatel worth $120 million.
As Pegasus demonstrates, private railway and highway operations in Brazil have opened their doors to telecommunications. Other companies installing along railways are MRS Logística and Vale do Rio Doce TBN, owned by Impex and Burti.
In addition to partnering with rights-of-way holders, potential operators in Brazil often find it necessary to work in tandem with their competitors. Since almost no carrier has all of its infrastructure installed, many companies subcontract services from each other to meet urgent service demands as well as to generate cash flow. For example, Pegasus rents 2-Mbit/sec lines to Netstream. Such partnerships also occur when there is redundancy, as a type of guarantee in case a fiber ruptures.
Prices per client to prepare a company's infrastructure to use fiber range from $15,000 to $125,000. Netstream may charge $50,000 to bring a fiber to a customer, but will install services as small as 64 kbits/sec (for a price ranging from R$400 to R$600 per month) on the expectation of future service expansion. At these prices, the services offered by companies such as MetroRED and Netstream in Sao Paulo cost around 50% less than those offered by other telecommunications companies, say local analysts.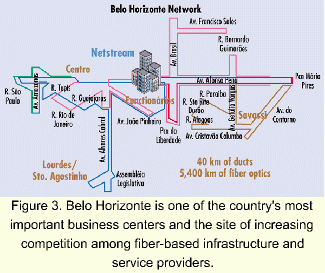 Figure 3. Belo Horizonte is one of the country's most important business centers and the site of increasing competition among fiber-based infrastructure and service providers.
In the long-term Sao Paulo market, Embratel/MCI (a long-distance and international carrier), with the largest fiber network in Brazil, and Telefonica, with its growing data-communications network, will also compete strongly for multinational high-bandwidth corporate users. In the near term, AT&T may also face unexpectedly strong competition from bidirectional broadband cable service providers such as pay TV and Internet providers for corporate data services. The vast majority of Sao Paulo's corporations still haven't evolved to require the advanced broadband services that fiber networks are better positioned to offer than cable modem service. While high-end corporate users will eventually migrate to higher-bandwidth connections, cable's ubiquitous network and more accessible pricing will be an effective lure for many Brazilian firms in the coming years.
Additionally, AT&T will face growing encroachment from Internet service providers like PSINet that offer advanced Internet services over proprietary networks.
While AT&T's position versus its competitors may be open to debate, so too might its estimation of the size of the Brazilian market. Some say the market is too new to be precisely evaluated. A conservative estimate of the high-speed data-transmission market as a whole, including fiber-optic equipment, might call for a $5-billion turnover by 2003. An optimistic forecast might predict a $7-billion figure for next year alone.
The Brazilian Association of Electro-Electronic Industries (ABINEE) estimates that in the next three years, the volume of fiber-optic deployment in Brazil will only be topped by the United States and China. Meanwhile, suppliers of infrastructure equipment for fiber-optic networks are saying that Brazilian carriers have bought less fiber than expected.
For instance, Siemens forecasted billings from $10 million to $15 million in 1999 but reached only $7 million. Furukawa's engineering manager, Leonardo Silv
Specialists foresee partnerships will lead to less infrastructure than what is being announced. So does Luis Felipe Mattos, who sells telecommunications systems for Agilent Technologies, a supplier of measuring and test equipment for fiber-optic networks. He foresees an average of 10,000 km of cable will be consumed per operator up to 2001. Agilent expects sales to reach between $20 million and $30 million this year.
Peter Howard Wertheim and Dayse Abrantes write on telecommunications issues in Latin America from Rio de Janiero.