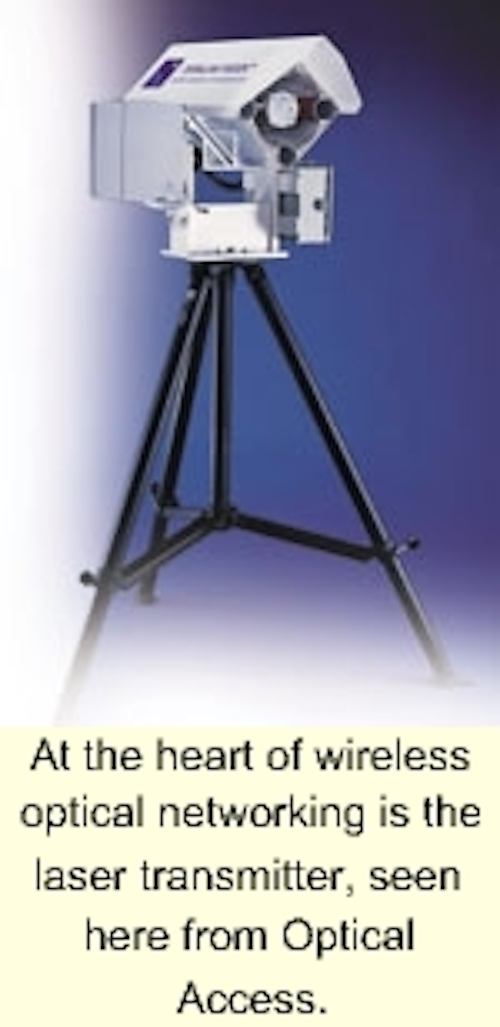 By MEGHAN FULLER
APPLICATIONS
When Steve Wood, vice president of telecommunications at New York's Chase, Hambrecht & Quist, needed an alternative networking solution to connect his company's main building with two newly acquired buildings across the street and down the block, he jumped on the Web and conducted a search under "wireless." That's how he stumbled upon AstroTerra Corp. (San Diego), manufacturer of wireless optical-networking equipment. Finding the company proved to be the most difficult part of the process.
Explains Wood, "I called them up and said, 'Do you have a pair [of lasers] you could ship in the next couple of days?' They said 'yes,' and I said, 'Good. Send them up.' When they arrived, we unpacked them, set them up in the window, and we were done." While this may seem like an oversimplification, Wood is adamant that wireless optical networking is far from brain surgery. "If you can aim a rifle," he says, "you can put up lasers."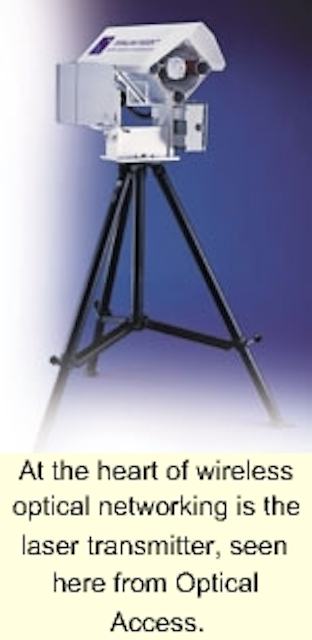 At the heart of wireless optical networking is the laser transmitter, seen here from Optical Access.
In wireless or free-space optical networks, information is carried over beams of light from a transmitter to a receiver. Once regarded as a pie-in-the-sky kind of scheme, the technology has caught the attention of some of the biggest names in the industry, including Lucent Technologies (Murray Hill, NJ), which partners with TeraBeam Networks (Seattle), and Nortel Networks (Brampton, Ontario), which backs AirFiber Inc. (San Diego). This summer, MRV Communications acquired Jolt Ltd. (Jerusalem, Israel) and AstroTerra. Both companies were merged with MRV's existing free-space optical-networking line, Opti Switch, to form Optical Access (Chatsworth, CA).
Wireless optics has its advantages. A pair of lasers can be deployed in hours, saving carriers and end users the weeks and sometimes months it takes to provision fiber, dig up city streets, and secure rights-of-way access. Such systems are also less expensive and may be used for interim, mission-critical applications, as well.
Wholesale local-loop service provider Tellair Corp. (Dallas) is committed to using free-space optical technologies to solve the last-mile problem and has chosen to standardize its network on the Optical Access laser transceivers. Last year, Tellair began deployment of the AstroTera product line in its Austin, TX, network. "We're operating a network that is OC-3 links, 155 Mbits/sec, providing service to an ASP [applications service provider] customer down there, and they love it," says chief operating officer Andy Obst. At press time, the company was building out networks in Houston and New York City, as well.
While he admits that free-space optical networking is not likely to displace fiber, Obst does believe there is a growing market for the technology. "It's shorter range-you're talking about a mile or less, typically-but you can deliver a vast amount of bandwidth very cheaply. In terms of bit per buck, it's a very good technology."
Startup Broadband Highway, a Los Angeles-based building local-exchange carrier (BLEC), has also chosen the Optical Access solution. "My partner and I have a background in implementation," explains CEO Jim Delany. "We had an implementation company-a construction company-that installed for all of the fixed wireless and BLEC people in Los Angeles, and we really saw a need to bring in a service that was quickly deployed, actually worked, and was scalable." At press time, the company had lit up six buildings and had plans to light up an additional 45 buildings before the end of the year.
Wireless optics has also fared well as an interim application. TeraBeam's solution figured prominently in the Summer Olympics in Sydney, where it was used to send information back and forth from the International Broadcast Center to the Aquatic Center. The stadium, which sits between the two buildings, prevented fiber from being a viable option. Microwave transmission was also less than optimal, due to the vast amount of radio-frequency interference. TeraBeam set up a laser transmission between the buildings that worked so well, Olympic officials asked the company to keep its network up 24 hours a day throughout the Games.
The success of the Sydney transmission, says TeraBeam CEO Dan Hesse, "proves to the world that in an extremely mission-critical application, [wireless optics] works very well."
TeraBeam also has a network up and running in Seattle, where it is host to three customers: Web-based advertising firm Avenue A, developer RC Hedreen, and TeraBeam itself. The company is in the process of adding more customers to the network before it jumps from the beta stage to full commercial deployment in the first quarter of next year.
It is important to note that, while its technology may be similar, TeraBeam occupies a different space than the rest of the companies selling their equipment to carriers and even the end user. "We have a very different business model," says Hesse. "We are a service provider." TeraBeam has more in common, then, with carriers like Tellair and Broadband Highway, which have chosen free-space optics to solve the last-mile problem.
While free-space optical networking may seem like a fail-safe idea on paper, there is one obstacle that has prevented-and may still prevent-its widespread deployment. Fog is a serious attenuator of light at such distances. For carriers and others requiring 99.999% availability for their telecommunications equipment, a little fog can seriously threaten their revenue-generating services. TeraBeam and AirFiber use very short links to curtail transmission failures due to weather, while Optical Access employs a micro wave or millimeter-wave backup.
Those who employ wireless optics seem to accept its shortcomings, at least for the time being. Eric Korevaar, chief technical officer at Optical Access, admits that his company's microwave backup solution, which transmits at a lower data rate than its optical-laser counterpart, may not be ideal, but "it's practical, and it's the only practical solution." The entire network will operate at full bandwidth over the laser link most of the time, but some small fraction of a percent of the time, it can fall back to the microwave link. While the critical traffic will transmit normally, some of the more intense data traffic might come through a little slower, as though "you were hooked to America Online at a very congested time of day," explains Korevaar.
Fog has not been a problem for Chase, Hambrecht & Quist, but the company does worry about glare from the sun. For approximately three weeks a year, the glare at sunrise and sunset is enough to interfere with transmission-and it was almost enough to convince the company to look for another solution. "Then our users were quick to point out that they could live with crappy service for an hour a day for three weeks, unlike the crappy service they now have every day, 24 hours a day," says Wood. "We decided that slow access beats no access."
Wireless optical-networking-equipment manufacturers are faced with another challenge now: convincing people that it really works.
Says Lou Gellos, senior manager of communications at Tera Beam, "Every body has a different spin on what the technology is, or they tweak it a different way, or they operate at a different wavelength, but the idea is the same: You can take a light beam and send it through the air. And all the stuff that you can do on a fiber-optic cable, you can do through the air on fiberless optics."