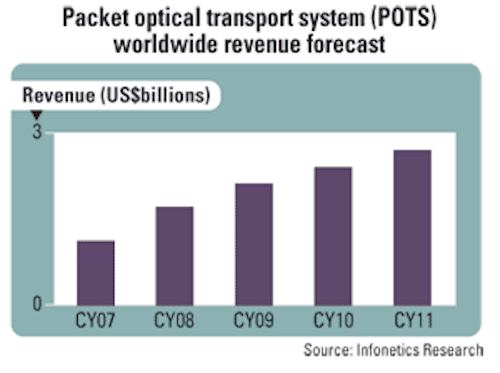 Communications market research firm Infonetics Research (www.in fonetics.com) says worldwide optical network hardware sales got back on track after the usual 1Q seasonal decline, as total optical hardware revenue hit $4.1 billion in 2Q08, up 14% sequentially.
Infonetics' report, Optical Network Hardware, shows that the jump in manufacturer revenue was driven by strong performances by Alcatel-Lucent, Huawei, and ZTE, in part due to increased activity in China.
"China's telecom restructuring projects and associated announcements indicate increasing optical network hardware capital investments in China over the next several years, and have started already in 2008. Optical spending by carriers in most Asia Pacific regions generally remains strong for the next few years, particularly in Korea, Japan, and Hong Kong," says Michael Howard, principal analyst at Infonetics Research.
Other highlights from the report include the following:
Alcatel-Lucent and Huawei each posted double-digit increases in worldwide optical network hardware revenue in 2Q08; and
ZTE posted a triple-digit increase in worldwide optical network hardware revenue in 2Q08;
Packet optical transport system hardware sales are a growing portion of the optical network hardware market, making up 11% of worldwide sales now, 17% by 2011.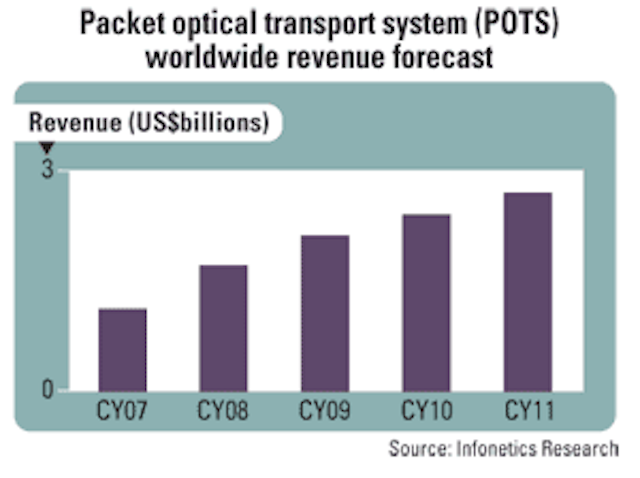 Worldwide revenue for packet optical transport system (POTS) is expected to hit almost US$3B by 2011.
The report provides market share, market size, and forecasts for metro and long-haul optical equipment, such as SONET/SDH, WDM , and POTS. Forecasts and regional market share are updated quarterly.