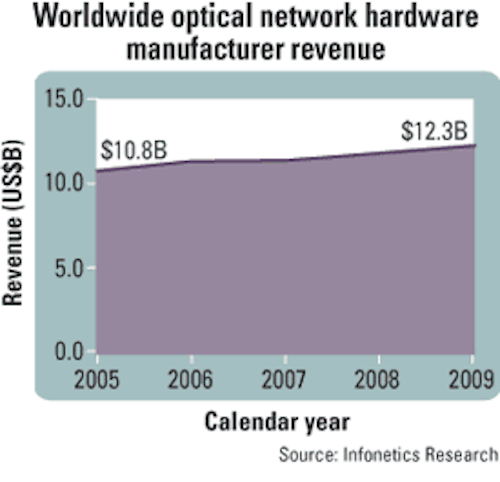 Worldwide optical network hardware revenue jumped 20% between the first and second quarters of 2006, reaching $3.1 billion in the second quarter, mainly due to big gains by Huawei and Alcatel, says Infonetics Research in its quarterly "Optical Network Hardware" report. The market is forecast to grow 14% between 2005 and 2009, when it will net $12.3 billion.
Huawei held the top spot among optical network hardware providers, followed by Alcatel, Nortel, and Tellabs.
"Huawei is the big story this quarter, with sales up an amazing 83% and a larger foothold in the EMEA region," reports Michael Howard, principal analyst at Infonetics Research. "For the first time in optical network hardware market history, Alcatel is not in first place. Huawei jumped from fourth to first in one quarter, a rare feat. Next quarter may be a different story."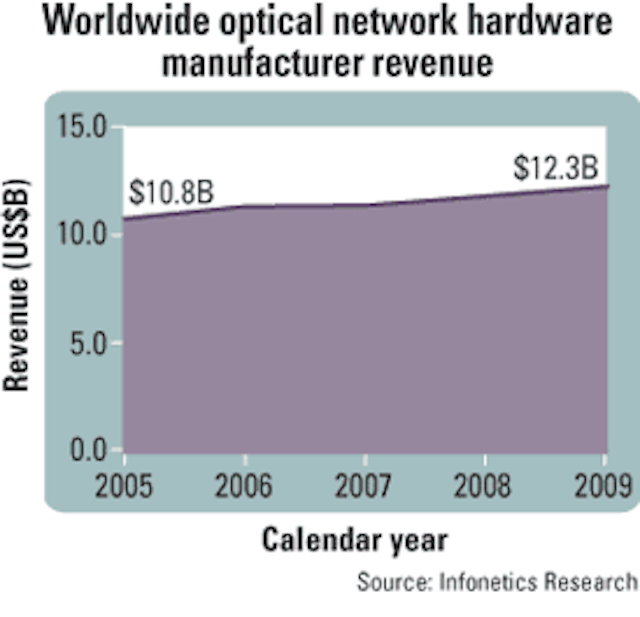 Many manufacturers experienced positive quarters; ADVA, Alcatel, Cisco, ECI, Ericsson, Huawei, Nortel, Siemens, Sycamore, Tellabs, Transmode, ZTE, and others all posted increased sales.
The report also finds that:
WDM ROADM switch hardware sales are up 23%.
Metro equipment composes 68% of all optical network hardware revenue with long haul composing 32%.
North America accounts for 35% of worldwide optical network hardware sales, followed by EMEA at 33%, Asia Pacific at 27%, and CALA at 5%.
For more information about the report, visit www.infonetics.com.