According to a report from Infonetics Research (San Jose, CA), worldwide metro Ethernet equipment revenue will more than double between 2004 and 2008, rising from $3.1 billion to $7.6 billion, and totaling almost $26 billion during the five-year period. Also during this period, the rates for metro Ethernet port shipments are expected to more than quadruple.
The firm sees Carrier Ethernet equipment sales driving the Ethernet services market, which the report says will jump 276% between 2005 and 2009, reaching $22.2 billion. Carriers like SBC, BellSouth, Verizon, TWTelecom, BT, France Telecom, KT, NTT, and AT&T are lowering the price per bit for Ethernet bandwidth, helping to fuel demand for such bandwidth in all regions of the world.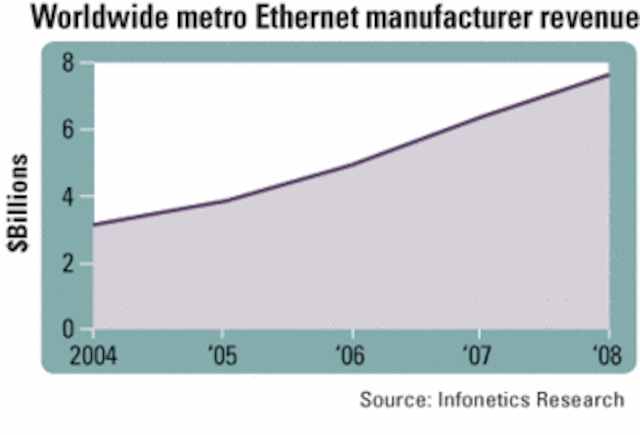 "We added Carrier Ethernet switches and routers market share to our report this go-round, and not surprisingly, Cisco led in 2004 with almost half the worldwide revenue, followed by Riverstone and Alcatel," reveals Infonetics principal analyst Michael Howard. "We also created a new category, Ethernet access devices (EADs), to track products that solve problems associated with delivering Ethernet over various types of copper and fiber connections."
Howard calls EADs "an important and fast-growing segment of the metro Ethernet market," with a projected growth of 2,353% between '04 and '08, with revenues rising from $20 million to $492 million. The report also sees worldwide Carrier Ethernet switch and router revenue increasing from $183 million last year to $2.6 billion in '08, representing 34% of the metro Ethernet equipment market. According to the report, Nortel Networks was the worldwide revenue market share leader for both Ethernet over SONET/SDH and Ethernet over WDM equipment last year. However, according to the firm, with the exception of Cisco, a "shakeup in market share" is expected for this year.
For more details on the report, "Metro Ethernet Equipment," visit www.infonetics.com.