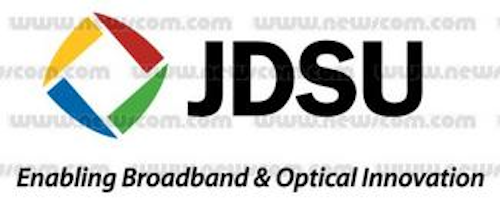 September 15, 2005 San Jose, CA -- JDSU has announced a program designed to simplify and strengthen its corporate identity. Effective immediately, the company will shorten its name in common usage from "JDS Uniphase" to "JDSU." This program will not affect the company's legal identity, which remains JDS Uniphase Corporation. The company has introduced a new logo and slogan reflecting the identity adjustment.
"This initiative is consistent with the transformation strategy we have outlined in business communications over the last several quarters," says David Gudmundson, vice president of corporate development and marketing for JDSU. "The shortened name and new logo better communicate our focus on building 'one company, one culture.' Additionally, the name JDSU is simpler and easier for our customers and other stakeholders, many of whom already refer to the company in this way. It is also consistent with our Web site URL, e-mail address, and NASDAQ stock symbol."
The company says that, in the coming months, the new logo will be prominently featured in its advertising and product identity, and on its corporate website. In addition to the revised symbol, the logo incorporates the name "JDSU," and the slogan, "Enabling Broadband & Optical Innovation."
"The slogan...clearly communicates our commitment to enabling our customers' innovation in a set of multi-billion dollar market segments including optical communications, broadband and optical test and measurement, and optical commercial and consumer applications," continues Gudmundson. "Similarly, the new logo provides a more modern look, while leveraging the equity associated with our logo over the years. The new symbol was inspired by the cycle of innovation that starts and ends with the customer."