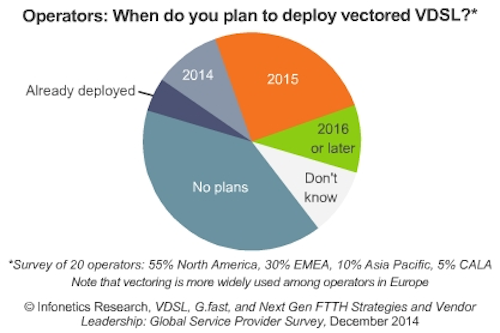 As many as 40% of the respondents to an Infonetics Research study indicate they plan to offer 1-Gbps broadband access network services by 2017. The trend is likely among the reasons that fiber-optic broadband should become more popular, as the market research firm, now part of IHS Inc. (NYSE: IHS), expects the percentage of broadband subscribers served via fiber to the home (FTTH) to grow this year.

The study, "VDSL, G.Fast, and Next-Gen FTTH Strategies and Vendor Leadership Survey," saw Infonetics interview 20 service providers worldwide who deliver fixed broadband access using technologies beyond ADSL/ADSL2+ or plan to by the end of 2015.

"For many service providers, growth in broadband revenue has more than offset the losses from declining voice services," explains Jeff Heynen, principal analyst for broadband access and pay TV at Infonetics Research. "Fixed broadband services, driven in part by the growth in online video services, have some of the highest margins of any services. Thus, service providers continue to invest strategically in their fixed broadband networks to increase speeds offered to residential and business customers and to increase the number of additional services they can offer, including multiscreen video, home automation, and home security."

Currently, 66% of subscribers receive broadband services via copper-based technologies, while 35% do so via FTTH. However, Infonetics reports that approximately half of service provider respondents either have no plans or do not know if they will deploy the current state of the art in copper-based broadband, VDSL with vectoring (see chart above). Meanwhile, half of respondents also indicate that they either have no plans or don't know if they will deploy fiber to the distribution point (FTTdp) and or G.fast, principally because of cost concerns.

These results might indicate an increased willingness to opt for FTTH, particularly within the context of gigabit broadband.

The survey also asked about respondents' perceptions of different broadband technology vendors. Alcatel-Lucent came out on top as the leading DSL equipment manufacturer; the company tied with Calix for the lead position among FTTH equipment providers.

For more information on FTTx equipment and suppliers, visit the Lightwave Buyer's Guide.