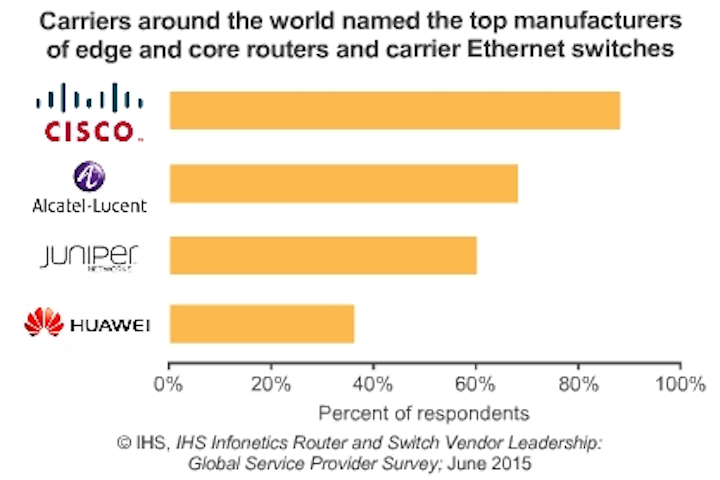 Cisco (NASDAQ:CSCO) maintained its Number 1 ranking in several categories in the 2015 edition of the IHS Infonetics Router and Switch Vendor Leadership: Global Service Provider Survey. The company topped the edge/core router and Carrier Ethernet switch (CES) manufacturer categories for the third consecutive year, according to the market research firm.

Cisco also was named the leader in service and support, technology innovation, 100 Gigabit Ethernet, data center interconnect, and mobile backhaul (this last in a tie with Huawei).

IHS interviewed sources at 25 global service providers that combined control 33% of global telecom capex. The sources had detailed knowledge of their companies' data networks and have planning and purchase decision influence for routers and CES, IHS says.

"Typically, the larger a manufacturer and the more visible their brand, the better they fare in our open-ended question on the Top 3 edge/core router and CES manufacturers," commented Michael Howard, senior research director for carrier networks at IHS. "Much like our results last year, service providers named Cisco the leader, with Alcatel-Lucent, Juniper, and Huawei rounding out the Top 4.

"There's a big gap between these four and their competitors, with some exceptions when it comes to pricing and financial stability," Howard added.

The main selection criteria when choosing top vendors were price-to-performance ratio, product reliability, pricing, service and support, and technology innovation, IHS says.

However, the top vendors shouldn't get complacent. "One service provider respondent may be foretelling changes coming in the industry, citing Whitebox as a Top 3 manufacturer," Howard said.

The survey also noted the growing importance of data center interconnectivity among service providers. IHS expects data center interconnect will grow to become 5% to 10% of the router market in the next few years. Alcatel-Lucent, Brocade, Cisco, Juniper, and Huawei (listed in alphabetical order) received top marks among survey respondents in this area.

The 15-page 2015 IHS Infonetics Router and Switch Vendor Leadership: Global Service Provider Survey reports how service providers say they select router and CES manufacturers, whose equipment they have installed and will evaluate for future purchases, and which manufacturers they consider leaders in key manufacturer selection criteria.

For more information on routers and suppliers, visit the Lightwave Buyer's Guide.