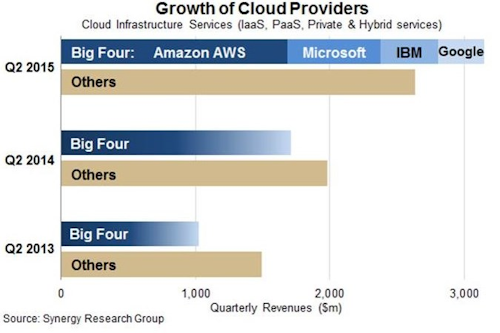 Amazon Web Services (AWS), Microsoft, IBM, and Google control 54% of the cloud services market, according to new second quarter 2015 research from Synergy Research Group. Their average year-on-year revenue growth was 84%, compared to the 33% growth enjoyed by the rest of the field, according to the market research firm.

The Big Four providers saw their share increase from the 46% of the year-ago quarter, which itself was a significant improvement from the 41% they controlled in 2Q13.

AWS is the biggest of the Big Four, with 29% market share in 2Q15, Synergy says.

Quarterly cloud infrastructure service revenues (which include IaaS, PaaS, and private and hybrid cloud) are now approaching $6 billion, with trailing 12-month revenues close to $20 billion, Synergy reports. North America continues to account for over half of the worldwide market, followed by EMEA and APAC.

"The cloud infrastructure services market is quite clearly bifurcating with a widening gap between the Big Four cloud providers and the rest of the service provider community," said John Dinsdale, a chief analyst and research director at Synergy Research Group. "Developing the necessary global hyperscale data center infrastructure along with the required marketing and operations support is simply beyond the reach of all but a very small number of players. This is not going to change.

"The good news for the plethora of small-to-medium-sized cloud providers is that there does remain a wealth of opportunity for those that are focused on specific market niches or local geographic areas," Dinsdale added.

Synergy provides quarterly market size and segmentation data on cloud infrastructure services and related markets, including operator revenues by segment and by region.

For more information on high-speed transmission systems and suppliers, visit the Lightwave Buyer's Guide.