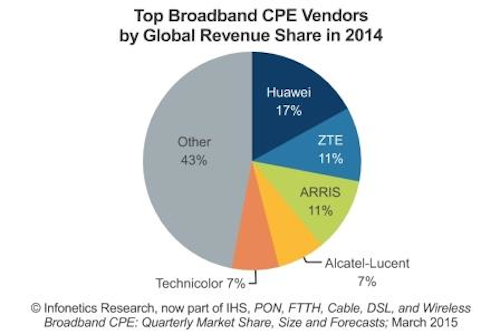 Sparked in part by the increasing interest in gigabit broadband, sales of broadband customer premises equipment (CPE) grew 9% in 2014, to $10.5 billion, according to a new report from Infonetics Research, now part of IHS Inc. (NYSE: IHS).

"The race to deliver gigabit services is on, particularly in North America and Western Europe, mature broadband markets where subscriber growth is steady yet competitive pressure remains high," explained Jeff Heynen, research director for broadband access and pay TV at the market research firm. "Service providers are making significant investments in new technologies that provide a marketing advantage in terms of speeds offered over competitors. The net result is continued growth in DOCSIS 3.0 and upcoming 3.1 devices for cable operators, and FTTH, VDSL, and upcoming G.fast CPE for telcos."

Sales of FTTH CPE rose 18% in 2014, while DOCSIS 3.0 CPE revenues grew 3%. Both GPON and DOCSIS 3.0 enjoyed particular success in North America; GPON also showed strength in China, Europe, and Latin America. Europe balanced its fiber-optic network purchases with strong interest in VDSL as well, according to the report.

The total CPE market's nearly double-digit growth over 2013 came despite a sequentially flat close to the year, Heynen and Infonetics report in the year-end "PON, FTTH, Cable, DSL, and Wireless Broadband CPE" report. Revenue for the fourth quarter was $2.7 billion.

Looking ahead, Infonetics expects DSL will make up a smaller share of broadband CPE revenue by 2019. The company expects telcos to add more FTTH services over this time period, although "many" will replace wired network broadband with fixed LTE services, according to the report.

Infonetics' quarterly broadband CPE report provides worldwide and regional market size, vendor market share, forecasts through 2019, analysis, and trends for ADSL and VDSL modems, gateways, and IADs; DOCSIS cable modems and gateways, EMTAs, and video gateways; BPON/EPON/GPON and Ethernet FTTH ONTs and gateways; fixed LTE CPE; mobile broadband routers; residential gateways; and broadband subscribers.

For more information on FTTx equipment and providers, visit the Lightwave Buyer's Guide.