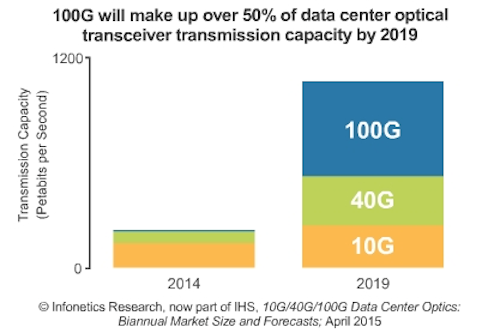 The long-awaited ramp up of 100 Gigabit Ethernet (100GbE) optical transceivers in data center applications may finally be at hand, says IHS Infonetics (NYSE: IHS). Sales of 40G optical modules remain robust in the interim, the market research firm reveals in its biannual "10G/40G/100G Data Center Optics" report.

Sales of 10-, 40- and 100-Gbps optical transceivers for enterprise and data center applications grew 21% in 2014 to $1.4 billion says IHS Infonetics (nee Infonetics Research). The popularity of 40G QSFP transceivers accounted for much of the upswing. Overall, 40G transceiver revenue jumped 81% in the second half of 2014 versus the final six months of 2013.

"40G transceivers are ramping up hard as data centers deploy 40GbE, particularly as a high-density 10G interface via breakout cables. 40G QSFP demand growth over single-mode fiber is primarily a result of large shipments to Internet content providers Microsoft and Google," said Andrew Schmitt, research director for carrier transport networking at IHS Infonetics.

Meanwhile, 100GbE module sales should finally gain momentum this year, then really take off in 2016.

"The market for 100G data center optics is accelerating, but it has yet to be turbocharged by widespread data center deployment in the way 40G QSFP optics have. This will change dramatically in 2016 as cheap 100G silicon reaches production and QSFP28 shipments surge as a result," Schmitt said. "Next year is going to be huge for 100GbE."

The market for 10-Gbps modules should remain strong, even if the market is overshadowed by the growth rates of 40 and 100 Gigabit Ethernet. However, the use of 40G modules as high-density 10G interfaces is beginning to curb growth. For example, worldwide revenue for client 10G devices was flat year-on-year in 2014, according to the report.

The data center likely will be the engine of any overall growth in optical transceiver sales over the next several years. Data centers now represent 65% of the overall telecom and datacom market for 10G/40G/100G optical transceivers. Datacom transceiver sales should grow to more than $2.1 billion by 2019, IHS Infonetics predicts.

IHS Infonetics' biannual 10G/40G/100G data center optics report covers worldwide market size, forecasts through 2019, analysis, and trends for manufacturer revenue, units shipped, and ARPU. The report analyzes the market by module speed (10G, 40G, 100G), reach, wavelength, and form factor.

For more information on optical transceivers and suppliers, visit the Lightwave Buyer's Guide.