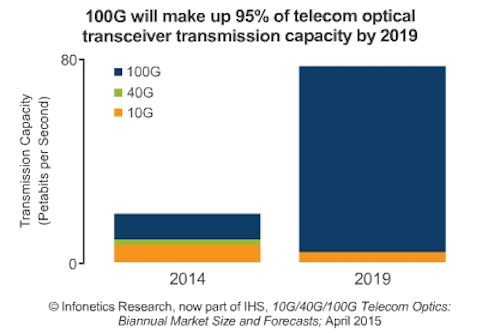 The evolution to 100-Gbps coherent transmission has been a boon for optical transport systems vendors. But it has not done much for optical transceiver sales, at least not yet, according to a new report from IHS Infonetics (NYSE: IHS). Telecom optical module sales dropped last year as 100G replaced 10G and 40G, but via board-level implementations rather than transceivers, according to the report.

Revenues from 10-, 40-, and 100-Gbps optical transceivers sold to telecom service providers slipped 7% in 2014, to $762 million, from 2013's $820 million, according to the market research firm's biannual "10G/40G/100G Telecom Optics" market size and forecasts report. (The company recently released a companion report covering datacom transceiver sales; see "Data centers driving 40G optical transceivers, 100G ramping says IHS Infonetics.")

"The decline in the telecom transceiver market is entirely a result of vertically integrated 100G network equipment manufacturers displacing shipments of 10G and 40G telecom optical modules. We don't foresee a reversal until 2016, when CFP2-ACO solutions hit the market, followed by non-coherent 80-km solutions," said Andrew Schmitt, research director for carrier transport networking at IHS Infonetics.

Port counts for 100G WDM grew significantly last year, thanks in large part to the success enjoyed by Huawei, Alcatel-Lucent, Ciena, Cisco, and Infinera – all of whom rely on in-house technology. Infonetics estimates these five companies control 84% percent of the coherent 100G market, leaving only 16% to be served by companies using 100G coherent optical transceivers.

The growth in 100G comes at the expense of 10G and 40G interfaces. Infonetics says that 10G in carrier networks "is beginning a long decline after an epic 15-year run." Meanwhile, the market for 40G is "vaporizing," according to the market research firms.

IHS Infonetics' twice annual "10G/40G/100G Telecom Optics" report covers worldwide market size, forecasts through 2019, analysis and trends for manufacturer revenue, units shipped and ARPU. The report analyzes the optical transceiver market by module speed, reach, wavelength, and form factor. Unit volume forecasts are based on IHS Infonetics' "1G/10G/40G/100G Networking Ports" forecast, which aggregates trends from a wide range of enterprise, datacenter, optical transport, and carrier routing and switching equipment.

For more information on optical transceivers and suppliers, visit the Lightwave Buyer's Guide.