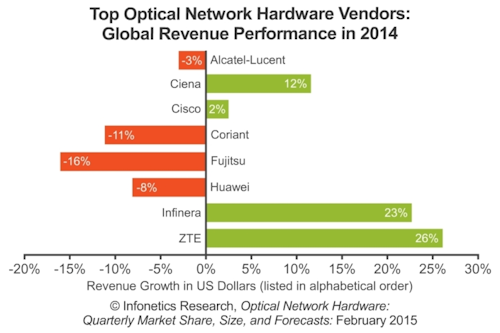 Ciena (NYSE:CIEN), Infinera (NASDAQ:INFN), and ZTE posted significant revenue gains in 2014 during what was a rough year for fiber-optic network hardware sales, reports Infonetics Research, now a part of IHS Inc. (NYSE: IHS). Despite the fact that the overall market declined 1% in 2014, Ciena used a 12% boost in revenue to wrest the Number 2 spot in optical network market share from Alcatel-Lucent (Euronext Paris and NYSE: ALU), according to the market research firm's upcoming "Optical Network Hardware" report.

The just concluded year proved turbulent, Infonetics reports. Global sales of WDM equipment climbed to $10 billion, rising 6% in 2014 versus 2013. However, a dramatic drop in sales of SONET/SDH technology, a slippage of 25%, doomed the overall optical hardware market to a loss for the year. Meanwhile, new forces began to reshape the customer landscape.

"The North American optical market diverged sharply in 2014, with strong results from ADVA, Infinera, and Ciena balanced by major weakness at traditional vendors like Alcatel-Lucent, Fujitsu, and Coriant," explained Andrew Schmitt, principal analyst for carrier transport networking at Infonetics Research, in a press release announcing the upcoming report. "The pattern here could not be clearer: Companies whose fortunes are tied to traditional carriers are underperforming. Yet the press and investor echo chamber's fascination with AT&T and Verizon spending inexplicably remains."

Despite a down year, Huawei managed to hold onto the top stop in optical network hardware market share. After Ciena at Number 2 and Alcatel-Lucent at Number 3, ZTE used a 26% gain in revenue to grasp the Number 4 position, followed by Fujitsu.

Infinera's 23% rise in sales made it "the fastest-growing optical company in the West," Infonetics added in the press release.

The 2014 optical market would have warranted a more disappointing summary if not for an up quarter to end the year. Combined sales of WDM and SONET/SDH gear reached $3.2 billion in the fourth quarter of 2014, up 7% sequentially and 3% better than 4Q13.

The Europe/Middle East/Africa (EMEA) market proved a surprising catalyst, jumping nearly 50% sequentially. "One important note on the EMEA region: When measured in euros, fourth quarter WDM optical spending surged 14% from the year prior. This has no precedent in the past five years," Schmitt said.

Infonetics' quarterly "Optical Network Hardware" report provides worldwide and regional market size, market share, forecasts through 2019, analysis, and trends for metro and long-haul SONET/SDH and WDM equipment, Ethernet optical ports, SONET/SDH/PoS ports, and WDM ports.

For more information on high-speed transmission systems and suppliers, visit the Lightwave Buyer's Guide.