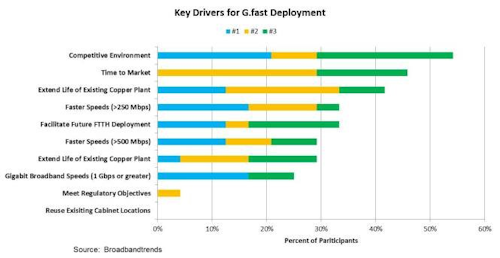 The need to stay ahead or abreast of competition is the main reason service providers are looking at G.fast, according to a recent survey by Broadbandtrends. The market research firm's "4th Annual Global Operators Survey on Ultra-Broadband Copper Deployment Strategies" emphasizes G.fast deployment factors.
Broadbandtrends notes that, despite the capabilities of such technologies as FTTH, DOCSIS 3.1, LTE, and millimeter-wave transmission, copper-based broadband will remain a significant approach. More than 300 million subscribers were connected to copper networks at the end of 2015, the market research firm says.
The survey, which comprised interviews with 35 incumbent and competitive operators in all major regions who represented 43% of all active DSL lines at the end of 2015, indicates that time to market and extending the life of existing copper plant are also catalysts for G.fast deployments (see graph above).
Broadbandtrends' "Global Service Provider G.fast Deployment Strategies" report provides a global overview of the results of the survey as well as commentary on notable regional differences found in the results. The 28-page report contains 20 figures and two tables and is available for purchase for $2995.
For related articles, visit the FTTx Topic Center.
For more information on FTTx equipment and suppliers, visit the Lightwave Buyer's Guide.