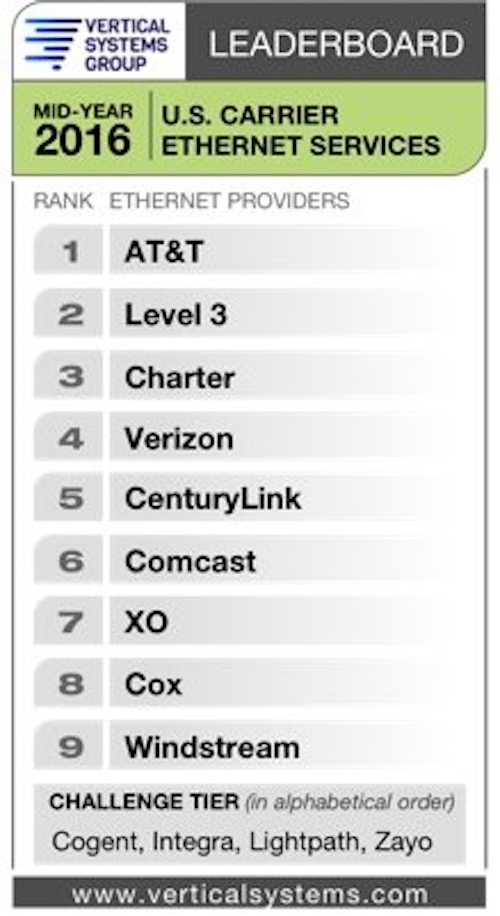 Charter leveraged its recent acquisitions of Time Warner Cable and Bright House Networks to jump onto Vertical Systems Group's U.S. Carrier Ethernet Leaderboard for mid-2016. The company enters the charts at Number 3, right ahead of Verizon.
The market research firm's U.S. Carrier Ethernet Leaderboard ranks providers of Ethernet services in the U.S. by retail port share. The current rankings using the mid-year base of enterprise installations of Ethernet services in the U.S. as well as input from surveys of Ethernet providers.
Vertical Systems Group releases a Top 10 list, plus a "Challenge Tier" (see chart). Service providers must have at least 4% of billable port installations to make the Challenge Tier. There is also a "Market Player" group below that.
Charter's status isn't surprising, given that Time Warner Cable was the top Ethernet service provider among cable MSOs and fifth overall in the U.S. at the end of 2015. Charter and Bright House were in the Challenge Tier at the end of the year.
In addition to its third position overall in the U.S., Charter Spectrum is now the largest cable MSO provider of retail Ethernet services in the country as well, Vertical Systems Group notes.
In other changes from the last report, XO has risen to seventh, swapping positions with Cox. Meanwhile, Integra made its debut in the Challenge Tier.
"The competitive balance of the Ethernet marketplace is evident, as more than 60% of new connections were delivered by CLECs and cable MSOs during the first half of 2016," said Rick Malone, principal of Vertical Systems Group. "Our analysis shows a 17% annualized growth rate for U.S. Carrier Ethernet services for the full year."
Leaderboard data derives from Vertical Systems Group's ENS (Emerging Networks Service) Research Programs.
For related articles, visit the Business Topic Center.
For more information on high-speed transmission systems and suppliers, visit the Lightwave Buyer's Guide.