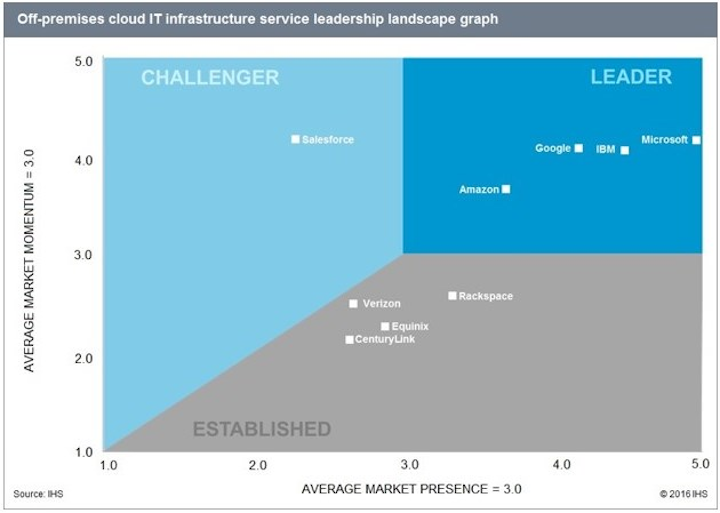 IHS Markit (NASDAQ: INFO) has compiled a new "Cloud IT Infrastructure Service Provider Scorecard," and released data on how it has assessed the top seven revenue producers for cloud IT infrastructure services. The released ratings for Amazon (AWS), CenturyLink, Equinix, Google, IBM, Microsoft (Azure), and Rackspace indicate how they have achieved market success.
The market research and analysis firm evaluated cloud services players based on criteria that includes direct feedback from buyers, provider market share, market share momentum, financials, brand recognition, reputation for innovation, and other benchmarks. IHS Markit proclaimed Amazon, Google, IBM, and Microsoft as 2016 "Leaders" for cloud IT infrastructure services. CenturyLink, Equinix, and Rackspace earned the "Established Player" designation. All avoided the "Challenger" category.
"Leadership in the cloud IT infrastructure services market requires very strong in-house software development skills, and all the leaders in our Scorecard have a long history of innovation. This is not expected to change moving forward," said Cliff Grossner, senior research director, data center, cloud and SDN, at IHS Markit.
"Established players, meanwhile, are able to leverage an existing services client base to which they can offer operational efficiencies. Although they have lower market momentum than the leaders, their significant presence indicates strong adoption of their solutions," Grossner added.
As the graph above suggests, IHS Markit tracks other cloud service providers as well. The off-premises cloud service market segments analyzed include infrastructure as a service (IaaS), cloud as a service (CaaS), and platform as a service (PaaS).
For related articles, visit the SDN/NFV Topic Center.
For more information on high-speed transmission systems and suppliers, visit the Lightwave Buyer's Guide.