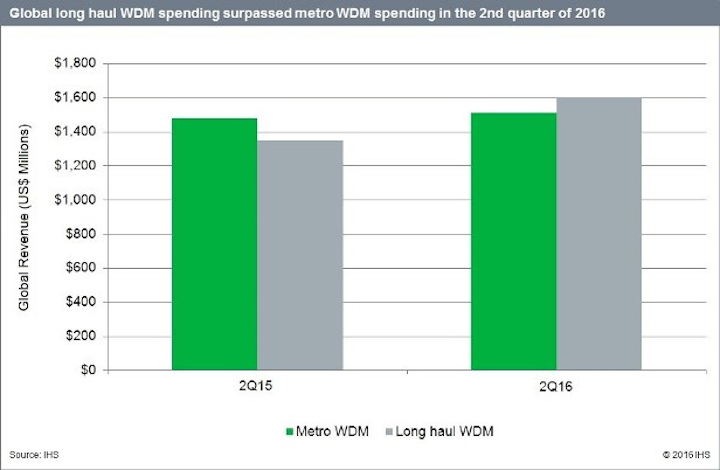 Worldwide sales of optical systems grew 15% sequentially and 7% year-on-year to $3.5 billion in the second quarter of 2016, according to IHS. Interest in long-haul systems supporting 100 Gbps and above and what Heidi Adams, senior research director, transport networks at the market research firm, described as "a spending spree in China" drove the revenue gains.
Second-quarter long-haul WDM spending increased 23% sequentially and 18% from a year ago, IHS reports in its new optical network hardware report. Overall, WDM systems sales gained 13% quarter-over-quarter and 10% year-over-year. As 100G long-haul deployments accelerated, deployments of 200G and above started to ramp as well, IHS notes. In fact WDM long-haul systems composed just over half of all WDM spending in the quarter, says IHS.
While metro WDM sales increased only 2% from Q2 2015, IHS Markit expects the segment to pick up toward the end of 2016. New metro data center interconnect (DCI) products should start shipping in volume at that time as major metro deployments in North America—mainly by Verizon—begin to increase, IHS forecasts.
Meanwhile, the China market grew 41% percent quarter-over-quarter and 22% year-over-year in the second quarter of this year. China represented more than 25% of the total market during 2Q16, the market research company reports.
Things were so good during the quarter that even the SONET/SDH segment enjoyed a sequential increase in sales during Q2 2016, driven by project-specific spending. However, it continued its long-term overall decline as evidenced by the fact that spending shrank 8% year-over-year.
Huawei was the chief beneficiary of the quarter's activity, with sales rising 41% versus the year-ago quarter. In addition to the bump from China, the company also benefited from gains in the Europe, Middle East, Africa (EMEA) region and the Caribbean and Latin America. Huawei accounted for a 32% share of the optical hardware market during the quarter, according to IHS.
The IHS Markit optical network hardware report tracks the global market for metro and long-haul WDM and SONET/SDH equipment, Ethernet optical ports, SONET/SDH ports, and WDM ports. The report provides market size, market share, forecasts through 2020, analysis and trends.
For related articles, visit the Business Topic Center.
For more information on high-speed transmission systems and suppliers, visit the Lightwave Buyer's Guide.