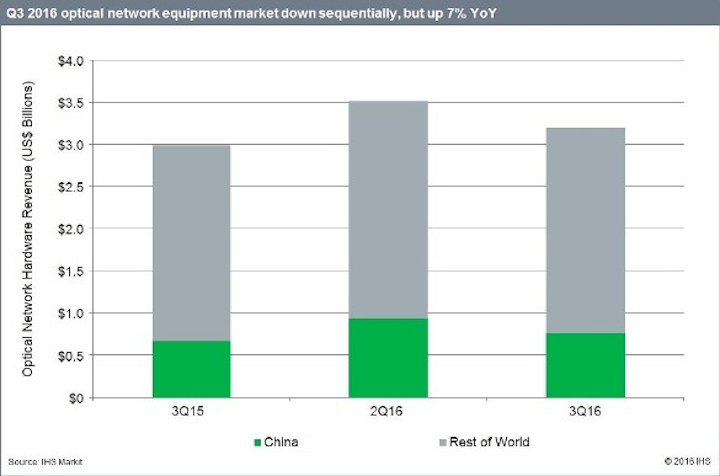 The pace of spending in China on optical network equipment slowed in the third quarter of 2016, reports Heidi Adams, senior research director, transport networks, IHS Markit, in an article the market research firm made available to the press. That corner of the market remained robust, however. Thus, while optical network equipment sales declined sequentially by 9% in the quarter versus the second quarter (see "Optical systems sales grow 15% sequentially in Q2 2016: IHS Technology"), the total spend of $3.2 billion represented an improvement of 7% versus the year-ago quarter.
The sequential decline came partially due to the slowing in Asia-Pacific sales momentum, with typical seasonal dips in Europe, the Middle East, and Africa (EMEA) and the Caribbean and Latin America (CALA) regions accounting for the rest.
Sales in China dropped more than 19% sequentially, wrote Adams. However, operators in the country still spent 14% more than in the third quarter of 2015, thanks to deployments of 100G infrastructure led by China Mobile.
North America was the only region to enjoy both sequential and year-over-year growth. Long-haul 100G and the data center interconnect market drove growth.
Network operators spent $2.9 billion on WDM systems in Q3 2016, 6% less sequentially but 10% more than a year ago. Adams expects WDM (including ROADM and packet-optical transport systems) to drive growth in the future, thanks to a compound annual growth rate (CAGR) of 7% for 2015‒2020. SONET/SDH technology sales, meanwhile, dropped 18% from the year-ago quarter.
Huawei led in market share for the quarter by a wide margin, according to Adams, thanks to its involvement with 100G projects in China as well as strength in EMEA and CALA. Ciena maintained its lead in the North American market and maintained second place globally. Nokia clawed past ZTE for third place overall, with a market-leading position in submarine line terminating equipment (SLTE) helping the cause.
The third quarter sales figures come from the quarterly IHS Markit optical network hardware report. The report tracks the global market for metro and long-haul WDM and SONET/SDH equipment and ports. The report offers market size, market share, forecasts through 2020, analysis, and trends info.
For related articles, visit the Business Topic Center.
For more information on high-speed transmission systems and suppliers, visit the Lightwave Buyer's Guide.