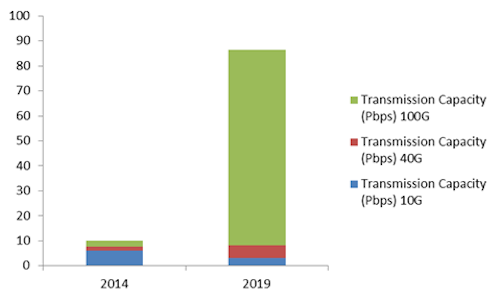 BPA Consulting says in its recently unveiled "High Speed Report 2016-2021" that high-performance data centers will provide a growth engine for high-speed electronics as such hyper data center networks move to 100 Gigabit Ethernet high-performance switches.

The market research firm reports that interface speeds of at least 40 Gigabit Ethernet have become common. Meanwhile, 2016 has witnessed growth in 100 Gigabit Ethernet data links at the spine or core layer of data center networks. BPA researchers expect demand in 2019 will be an order of magnitude greater than seen in 2014, with 100 Gigabit Ethernet dominant (see figure above).

The use of custom-built silicon with 40 or 100 Gigabit Ethernet capacity as a multi-layer spine switch for a large network can be a good investment, BPA says. However, at the access layer where performance demands are less demanding, traditional switches based on merchant silicon or even white boxes can make sense both commercially and operationally for operators, the market research firm says.

Nevertheless, BPA sees a number of scenarios where custom-built silicon switches can deliver significant value, including improved performance, reliability, durability, and capacity. These include:

applications that require a longer life-cycle over many years
scenarios where high latency must be avoided, such as financial services transactions.

For related articles, visit the Business Topic Center.

For more information on high-speed transmission systems and suppliers, visit the Lightwave Buyer's Guide.