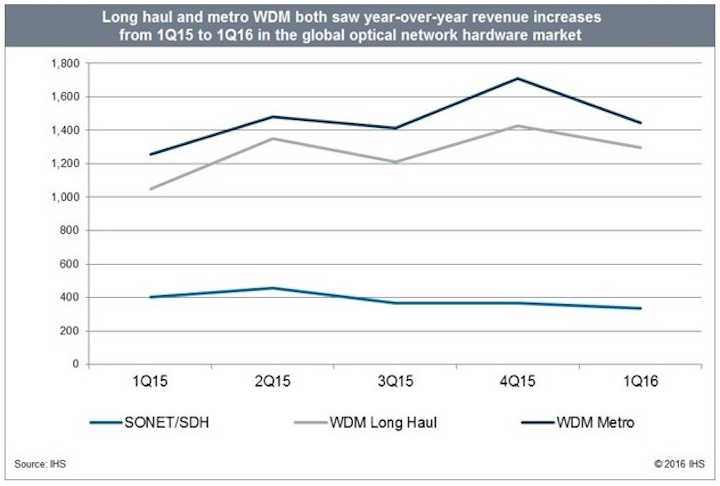 A pair of market research reports assert that sales of WDM equipment in the first quarter of 2016 grew by at least 20% versus the year-ago quarter. Those sales did not prevent the overall optical transport space from sliding sequentially, one analysis firm points out.

Both IHS and Dell'Oro Group reported robust demand for WDM equipment. IHS says that long-haul WDM equipment sales rose 23% and metro sales grew 15% year-over-year. Dell'Oro pegged combined WDM growth at 20% versus the year-ago quarter.

The two firms pointed to strong demand in Asia-Pacific, particularly China, as a catalyst for this success. North American sales were strong as well. Overall demand for 100-Gbps capabilities also proved a factor, the analysts agreed.

"This was another amazing quarter for the optical transport market," said Jimmy Yu, vice president at Dell'Oro Group. "Three things about the WDM market stood out this quarter. The first being the market grew 20% year-over-year for a second consecutive quarter. Next, this was the 25th consecutive quarter of WDM market expansion, and the third being 100-Gbps coherent wavelength shipments in the first quarter 2016 were twice the amount shipped in the first quarter 2015."

IHS noted that while the overall optical transport market declined versus the fourth quarter of 2015 as it typically does at the beginning of the year, the segment grew 13% year over year. As has been the case for several quarters, the rise in WDM spending has come at the expense of SONET/SDH equipment (see chart above). Sales of such gear represented only 11% of the overall market, according to Heidi Adams, senior research director, transport networks, IHS Technology.

Adams says that Nokia, thanks to its acquisition of Alcatel-Lucent, now sits as the second largest supplier of optical transport equipment, only behind Huawei. Within the WDM segment, Yu placed Nokia fourth with an 11% market share, behind Huawei (25%), Ciena (15%), and ZTE (12%).

The Dell'Oro numbers come from its most recent "Optical Transport Quarterly Report" The report covers manufacturers' revenue, average selling prices, unit shipments (by speed including 40 Gbps, 100 Gbps, and greater than 100 Gbps). Platforms include DWDM long-haul terrestrial, WDM metro, multiservice multiplexers (SONET/SDH), optical switch, and packet-optical platforms.

The IHS figures come from its newly updated "Optical Network Hardware Quarterly Market Tracker," which follows the global market for metro and long-haul WDM and SONET/SDH equipment, Ethernet optical ports, SONET/SDH ports, and WDM ports. The report provides market size, market share, forecasts through 2020, as well as analysis and trend information.

For related articles, visit the Business Topic Center.

For more information on high-speed transmission systems and suppliers, visit the Lightwave Buyer's Guide.