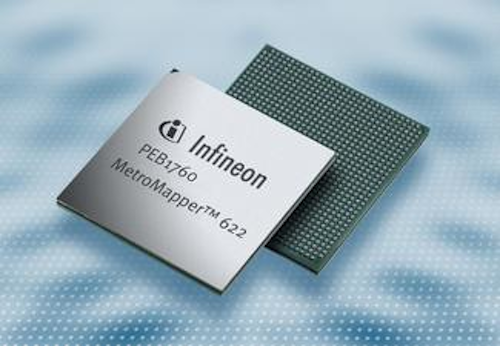 1 December 2003 Munich, Germany Lightwave -- Infineon Technologies today announced the addition of an Ethernet-over-SONET/SDH (EoS) mapper/framer to its portfolio of optical networking products. The new MetroMapper 622 chip will enable both data communications and traditional telecommunications equipment vendors to develop flexible systems that support current and emerging Ethernet/data transport services over existing metropolitan-area optical fiber networks.
Infineon is the first supplier in the industry to offer a complete portfolio of optical networking solutions for any implementation, says the company, from pure voice-only SONET/SDH to resilient packet ring (RPR) and EoS.
"The MetroMapper 622 chip represents the culmination of our continuing efforts to deliver the broadest portfolio of standards-based solutions to the optical networking market," reportd Subodh Toprani, senior vice president and general manager, Wireline Communications Business Group, at Infineon Technologies North America. "It squarely addresses the fastest growing communications market segment, which is using the SONET/SDH infrastructure to deliver Ethernet and data services, and complements our solutions for networks supporting 'pure' TDM and RPR applications."
"Carriers andEsystem vendors are unifiedUin their desire to provideI Ethernet-over-SONET servicesAusing the combinationUof GFP (Generic FrameA Protocol), VCAT (virtualEconcatenation) and LCASE(Link Capacity AdjustmentI Scheme)," said Allan Armstrong,Edirector of communicationsUsemiconductors atA analyst firm RHK, Inc.I"Framer/mappers that enableIsophisticated new tributaryI capabilities willIgo a long way toward makingIEoS affordable and paveIthe way to the much desiredEand inevitable convergenceUof Layer 1 and LayerE2 processing."
Use of the single-chip MetroMapper 622 mapper/framer will result in significant power, design complexity, software development, and overall system cost savings for manufacturers of line cards for next-generation SONET/SDH equipment, routers and multi-service switching platforms, say company representatives. Infineon further decreases development costs and time to market for its customers by providing API-based software device drivers and what it claims is best-in-class applications engineering support, in addition to the silicon and associated evaluation boards.
The MetroMapper 622 mapper/framer, the first member of a new family of networking ICs, allows equipment manufacturers to develop systems that meet the latest Ethernet transport requirements as defined by the Metro Ethernet Forum (MEF) and ITU-T, including seamless interface between private and carrier networks, and any-point-to-any-point connectivity. The EoS chip offers a hitless LCAS engine proven in a real network environment and extensive zero-packet-loss Layer 2 functionality on-chip. With 64 VCGs (virtual concatenationIgroups), it also has the highest VCG density in the industry, says the company. The MetroMapperI622 chip provides flexibility by performing both virtual concatenation (VCAT) and LCAS functions on-chip in addition to mapping and framing.
A complete evaluation board is available for fast design-in and software development. The board includes a MetroMapper 622 chip, embedded CPU system, IBM PowerPC 266 MHz processor, embedded LINUX, software drivers, and a printed circuit board.
Offered in a 1024-contactIball grid array (BGA) package, the MetroMapper 622 EoS mapper/framer is available now at a low-volumeIprice of $280.