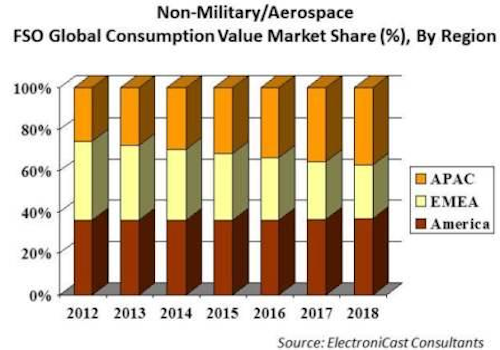 The market for free-space optics (FSO) transmitter/receiver link devices for stationary non-military/aerospace applications reached $29.83 million in 2012, a 13% increase over the year 2011, according to ElectroniCast Consultants. The figures were released as the market research consultancy issued its new ElectroniCast Executive White Paper: Free Space Optics Global Market Forecast & Analysis (2012-2018).

FSO is a line-of-sight technology that uses directed laser beams to transmit communications signals. Such systems are often positioned as an alternative to fiber-optic cables, particularly when laying such cables would be cost-prohibitive or where permitting presents an insurmountable obstacle.

According to ElectroniCast, the Europe, Middle East, Africa (EMEA) region represented the largest FSO market in 2012. However, the Americas are expected to usurp the top slot in 2013 – and to in turn be overthrown by the Asia-Pacific (APAC) region by the end of the forecast period.

The ascendancy of the Americas market will be driven not only by continued upgrades and network facilitation in the United States and Canada, but also by accelerating economic growth in Latin America. Other market drivers in the Americas include growth in demand for communication links in mass transit, security systems, broadcast (TV), and telecommunications applications.

However, the APAC region represents significant untapped potential for FSO system deployment. As the graph below shows, the Americas and APAC will put the squeeze on EMEA in terms of market share over the forecast period.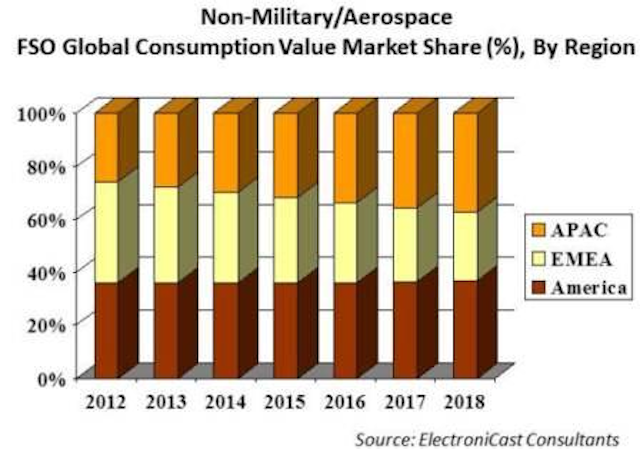 According to ElectroniCast, the APAC region is forecast to eventually take the lead in terms of relative market share of non-military/aerospace FSO links.

The 46-page ElectroniCast Executive White Paper is available for $1,400 from ElectroniCast Consultants.

For more information on FSO systems and suppliers, visit the Lightwave Buyer's Guide.