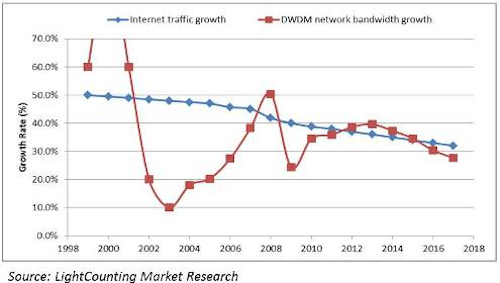 Those still seeking signs of a recovery in the optical communications technology market aren't looking in the right places, asserts LightCounting as it releases its July 2013 Market Forecast Report and Database.

Part of the problem with tracking "recovery" is defining it, says the market research firm. While the major service providers have increased their capital expenditures recently, most of those increases have benefitted wireless technology providers. Meanwhile, optical network equipment sales have flattened on average. Things are potentially worse in the optical component space, where devices for 100G and mobile backhaul offer this year's only glimmers of light so far.

However, if you chart DWDM network bandwidth, calculated from historical and projected DWDM port shipments, versus Internet traffic growth, a more positive picture emerges: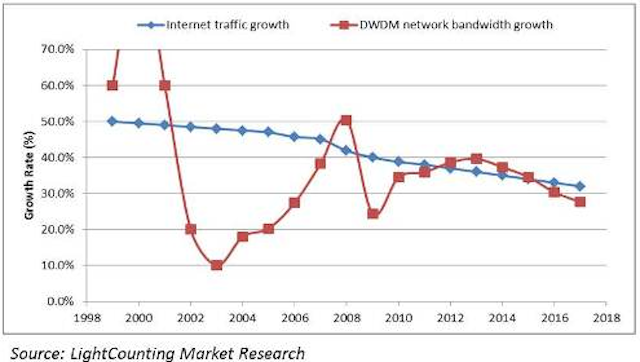 A few things become clear. First, the Bubble Age dictum that Internet traffic growth will drive optical network technology deployments has only recently appeared to hold. Second, macro-economic cycles appear to exert a stronger influence on optical technology market cycles than Internet growth. Thus, the dip in bandwidth growth in 2009 that correlates with the global recession has evolved into three straight years of bandwidth growth increases – with another expected this year.

However, a deeper look into what technologies are being used to create this bandwidth growth provides the real key to optical technology recovery, LightCounting says. For example, sales of optical components and modules for telecom applications rose sharply in 2010-2011 (up by 48% and 20%, respectively), but lost momentum in 2012, up only 2%. Similarly, optical networking equipment sales jumped in 2011, but didn't meet expectations in 2012.

The story behind these trends is the increasing use of 40G and 100G ports. For example, sales of 40/100G optical components and modules grew 50% in 2012 to exceed $750 million, while the overall component and module market was flat. LightCounting expects this trend to continue this year, with 40G/100G component and module sales forecasted to grow by at least 30%. The prescience of this forecast will depend greatly on whether 100G projects at AT&T and China Telecom remain on track, the market research firm notes.

Meanwhile, 40 Gigabit Ethernet datacom components and modules should do quite well this year, as should optical transceivers for wireless infrastructure upgrades. And 10G PON sales should finally become significant late this year as well, LightCounting forecasts.

Finally, LightCounting also expects steady activity for 10-Gbps technology for aggregation and metro requirements.

LightCounting's new forecast report analyzes business and capex of the top 15 service providers and offers historical sales data (2009-2012) and five-year (2013-2017) forecast for sales of optical component and modules used in Ethernet, Fibre Channel, SONET/SDH, CWDM, DWDM, wireless infrastructure, FTTx, and high-performance computing applications.

For more information on optical transceivers and suppliers, visit the Lightwave Buyer's Guide.