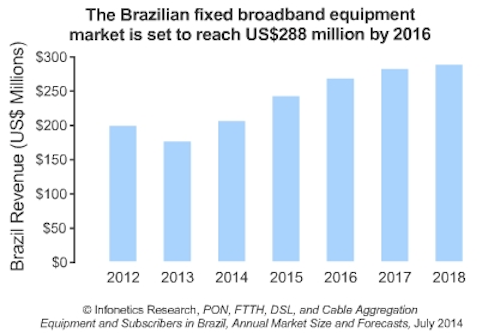 While telcos and cable MSOs in Brazil spent 11% less on equipment year-over-year in 2013, Infonetics Research expects the market to rebound soon. In fact, the market research firm states in its new "PON, FTTH, DSL, Cable Aggregation Equipment and Subscribers in Brazil" report that equipment sales in the country should rise from the $175 million of 2013 to $288 million by 2018.

"Spending on fixed broadband equipment in Brazil stalled in 2013 as telco operators slowed their purchases of new equipment after higher spending the prior two years. However, we expect the pause to be short-lived, as increased competition due to regulatory restrictions being lifted will drive new investments this year and beyond," notes Jeff Heynen, principal analyst for broadband access and pay TV at Infonetics Research.

G.Fast and GPON upgrades as well as effort by cable operators to roll out DOCSIS 3.1 will spark the growth trend, the report states.

The market has been turbulent, thanks to significant consolidation among operators. For example, América Móvil has rolled up Claro, Embratel, and NET Servicos, the country's largest cable operator, Infonetics notes.

"The wave of consolidation among Brazil's broadband providers will continue, as Telefónica looks to solidify its market leadership and build scale, especially in the highly-competitive markets of Rio and São Paulo," Heynen predicts.

Brazil is among the top 10 broadband countries worldwide, with 22 million broadband users out of a population of about 200 million. Broadband users are primarily located in the urban areas of Rio and São Paulo, Brazil's two largest cities, where penetration rates are near 35%. As is the case in other countries, however, rural penetration rates are low due to underinvestment by the major private operators in the fixed access, backbone, and middle mile networks required to connect rural municipalities, the report states.

Arris emerged from 2013 as the overall broadband revenue share leader in Brazil. Alcatel-Lucent led in DSL equipment revenue and Huawei topped the PON equipment revenue chart.

Infonetics' annual report on broadband equipment and subscribers in Brazil provides market size, market share, forecasts through 2018, analysis, and trends for PON, BPON, EPON, GPON, FTTH, FTTB, and DSL aggregation equipment and subscribers in Brazil.

For more information on FTTx equipment and suppliers, visit the Lightwave Buyer's Guide.