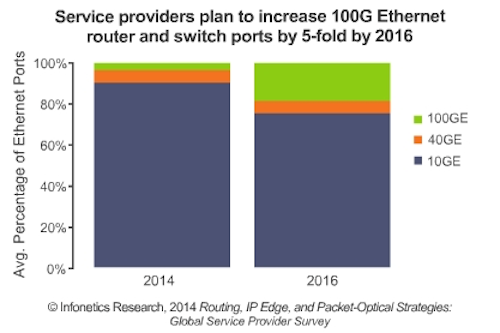 Operators plan to move a multitude of functions from physical routers to software or virtual routers, according to the latest operator survey from market research firm Infonetics Research. Meanwhile, adoption of 100 Gigabit Ethernet (100GbE) is about to take off, the survey reveals.

In its "2014 Routing, IP Edge, and Packet-Optical Strategies: Global Service Provider Survey," Infonetics asked router purchasing decision makers about their current and future plans for software-defined networking (SDN) and network functions virtualization (NFV), 100GbE adoption, use of packet-optical transport systems (P-OTS), and the architectural changes occurring to metro networks in next-generation central offices.

"Major changes are underway in carrier networks," said Infonetics Research co-founder and principal analyst Michael Howard. "In our first-time measure of the important SDN NFV hardware focus to software focus trend that's affecting the router market, up to three quarters of the operators participating in our routing study are planning to move a long list of services including security, quality of service, and VPNs, from physical edge routers to software virtual routers running on commercial servers in mini data centers in next-gen central offices."

The move to SDN and NFV will change the way operators make equipment purchasing decisions, placing a greater focus on software, Infonetics asserts. Though hardware will always be required, its functions will be refined, and the agility of services and operations will be driven by software. 15% of operators surveyed are already deploying or trialing NFV in mini data centers, and another 59% are considering or evaluating it.

Other findings include the fact that operators are moving to 100G now: 4% of the 10/40/100GbE router and Carrier Ethernet switch ports purchased in 2014 are 100GbE, and this will increase nearly five-fold to reach 19% by 2016. By 2016, a very large majority of operator respondents expect to be paying "10GbE parity" or less (parity is when a 100GbE port is priced at 10X the price of a 10GbE port), the analyst firm says.

P-OTS are becoming a more integral part of carrier network architectures: 84% of respondents said they have deployed P-OTS or will deploy them by 2017, with the metro core, regional, and core/long haul as prime locations for deployment.

Infonetics also found that, despite much industry talk, survey participants say they have little current or future demand for a multilayer data/transport control plane.

Infonetics' 36-page routing strategies survey is based on interviews with router purchase decision makers at 32 incumbent, competitive, mobile, and cable operators from Europe/Middle East/Africa (EMEA), Asia Pacific, North America, and Caribbean and Latin America (CALA). The organizations participating in the study together represent 41% of 2013 worldwide service provider capex, the firm says.

For more information on IP routers and suppliers, visit the Lightwave Buyer's Guide.